Welcome back to the King of Fighters tournament…
It's a nice little return to form for SNK's venerable fighting game franchise, as King of Fighters is back for numbered-entry fourteen. Bringing tons of characters (including 19 new ones), a promised improved online system, an all-new 3D rendered look, and some of the biggest overhauls since KoF '98, this is one that fans are probably going to want to check out.
I know I'm interested in playing, though I am one of those fans that I mentioned. Overall, KoFXVI looks like a fairly faithful new rendition of the fighting game series that we all know and love. Depending on where you sit, that's not a bad thing by any means, as there's a reason that King of Fighters is such a long-lived line of titles.
Simply put, the gameplay is catchy and keeps you playing, a big reason for which is that 3 vs 3 formula, that allows you to fight using story-appropriate teams, or mash-up squads made of your favorite characters. I remember playing '98 more than any other fighting game at the time, thanks to that fact. Tagging up Art of Fighting and Fatal Fury guys was just too cool- especially for a long-time SNK fan.
Anyway, the game arrives on August 23rd, exclusively for the PS4, and will run you $59.99 USD. There's a nice little bonus too, if you pre-order the game, in the form of a steelbook case with Kyo Kusanagi emblazoned across the cover.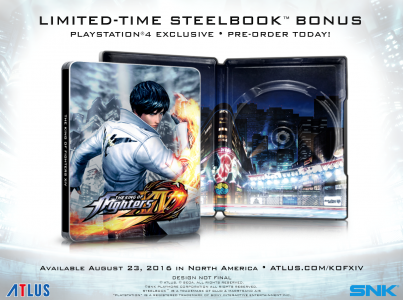 Highlights are listed below and make sure you check out the second trailer underneath that to see way more of the game in action.
3D Evolution: All 50 fighters, movesets and more are rendered in full 3D graphics that preserves the essence of KOF's visual style but updates it with a whole new dimension.
The Best Refinement since KOF '98: Through extensive playtesting and balancing, the controls have been streamlined, and the Combo and Max Mode mechanics have been overhauled to create the most competitive fighter in SNK's history.
The KOF Saga Continues: There's a robust single-player storyline where several years have passed since the previous KOF tournament. Now a worldwide business, the global KOF will decide who is the strongest as both individuals and companies with their own ambitions have come to compete. Players compete against CPU-controlled opponents to unlock the storyline.
The Best Roster Yet: There are 50 fighters total, with 31 returning from previous entries into the KOF series, and 19 brand new characters. All 50 characters will be available at the game's launch.
Revamped Online Experience: THE KING OF FIGHTERS XIVhas devoted a lot of development time to improving the game's netcode for vastly improved online gameplay. KOF XIV uses the PS4's online architecture to have a whole host of online conveniences, from spectating to saving replay/battle data, and having a single online KOF XIV profile to connect with friends.