The Star Trek section of Mezco Toyz' One:12 Collective line is getting a little bigger with a variant of Spock that shows off his unique look from the original Trek episode, The Cage.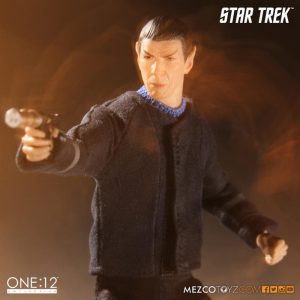 Believe it or not, there's a website called GetSpock.com. The address actually leads to a page called Vegas Dead Dolls that offers not just Trek stuff, but some cool figures and collectibles from Mezco's Living Dead Dolls collection. And now they stock one more item, one that's sure to be pretty hotly sought after in this new Spock variant. Made just for the 50th anniversary celebration in Las Vegas this year, you're going to want one for yourself if you're a fan.
Patterned after his appearance in The Cage, Spock comes complete with his pre-Trek Starfleet uniform and laser pistol (nope, no phasers yet), as well as an altered look. While the figure bears the spitting image of the late actor Leonard Nimoy, he's got the original-look hair, eyebrows, and ears that the now-famous Vulcan had, all of which was changed for the final show after it got greenlit for production.
And in addition to that, he sports a monster 32 points of articulation and a five panel window box, that is most definitely collector-friendly. Here's what's included:
Fists (L & R)
Posing hands (L & R)
Laser holding hand (R)
Communicator holding hand (L)
Laser with episode specific sculpt
Communicator with episode specific sculpt
Away Team harness
Away Team jacket
Display base with posing post
Available at the 50th anniversary celebration at GetSpock.com and at the celebration itself at the Rio Suites and Hotel in Las Vegas, The Cage Spock will cost you $159.95 USD (with free shipping).