Head's up you rock'n'rollers… and samurai… there's two skin-packs for TMNT: Mutants in Manhattan that you can pick from, depending on how you pre-order PlatinumGames' newest beat 'em up.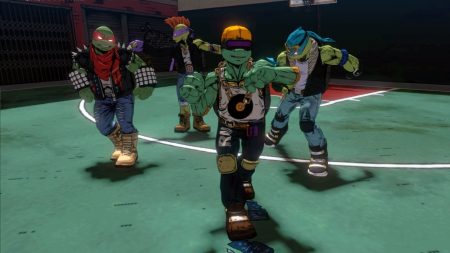 Yes, both pre-order sets of goodies are of the aesthetic variety, meaning that they won't really change the game any, but they're both pretty nifty regardless. And that's especially true if you're a fan of the Ninja Turtles toy line from Playmates Toys, as these bonuses recall the many, many (many) variant action figures that've graced the line from the very beginning.
Casting the Turtles as either rockers or samurai (weren't they the opposite of ninjas?), the DLC can be grabbed in two different ways. Pre-ordering the game from GameStop will net you the skins seen above, which is the rock'n'roll set.
Grab the title digitally, via the PSN, Xbox Live, or Steam on the PC however, and you're in for those samurai skins seen in the gallery below. Both are kind of neat, and shake up the look of the game a bit, which is otherwise right in line with the current (terrific) nickelodeon TV series.
Almost here for consoles and the PC, Teenage Mutant Ninja Turtles: Mutants in Manhattan will hit the streets (and digital downloads obviously) on May 24th.