Decked out in his classic green and black ninja garb, Pop Culture Shock has a monster-sized Reptile statue ready for the most die-hard of the MK fans out there.

"Reptile is unique in the Mortal Kombat franchise because he isn't fighting for power," said Pop Culture Shock President Jerry Macaluso. "He looks scary and repellent, but he's actually a very noble character, loyal and sincere, doing his best to free his homeworld. Never judge a lizard by his cover!"
Let's put it where it is, this is a freaking cool statue, and one that comes with all manner of bonus items and swappable parts. It's also a beast in the cost department though, and I'd imagine whether you're actually in for one or not is entirely up to your wallet/bank account.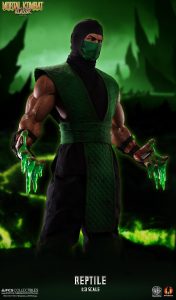 First the good stuff though, because this is one cool piece. Decked out in his MKII 'disguise', Reptile is cast in one third scale, which translates to 28″ tall. He's also got all the good stuff I mentioned before like the extra hands and head, and a light up base.
Here's what's included:
Human Masked Portrait
Unmasked Reptile Portrait
Unmasked Skull Portrait
Hands with Acid Drip
Clean Hands
Right Hand Holding Mask
LED Green Glow Base
In addition, Reptile is going to be super-limited in availability. He'll be sold only on the Pop Culture Shock website, and will only be offered with a run of 350 pieces. So yeah, if you want one, you have to kind of act fast. As to when you'll have to act fast, mark your calendar for March 28th at 3pm PST.
Reptile is scheduled to ship out in the second quarter of 2017, and you can get yours here. You'll also get a 15% discount for pre-ordering the statue, which is a good thing as the price tag is $750.00 USD. Yeah… that's the one down-side to this bad boy.