Remember 1980's anthology series Ranx? Well it's coming back to shock a whole new audience, courtesy of Dark Horse Comics.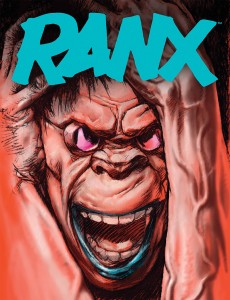 Now, firstly, this is a re-publication of the original riff on the Heavy Metal series that was Ranx. The character of Ranx (also called RanXerox) first saw comic shop racks way back in the pages of Heavy Metal in 1983, but was pretty quickly spun off into his own series of graphic novels.
Since he was birthed by Heavy Metal magazine, you could probably guess that old Ranx' story would be a weird one. And, presented by the character's writer Stefano Tamburini and artist Tanino Liberatore, you better believe it is.
Ranx (also known as RanXerox) is a sci-fi antihero made of photocopier parts and ultraviolence. In a futuristic dystopia, he protects his girlfriend Lubna from vicious drug dealers on a brutal path of sex, carnage, and destruction.
Intrigued by the retro-futuristic cool presented here by Dark Horse? You can pre-order right now and lock up a copy for yourself- the book lands on the shelves in hardcover, graphic novel form, on November 9th.