There's been no shortage of scandal as of late as goes the attempted revival of the ColecoVision name, but it looks like it's officially over and done with at this point.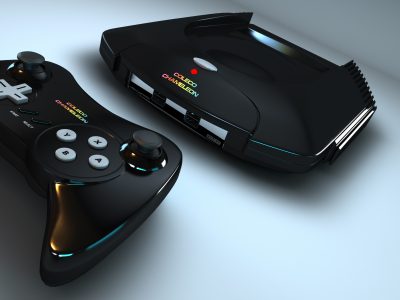 So, here's the thing, I was really looking forward to the ColecoVision Chameleon. The little console was poised to bring back obscure console games from days gone by, and reintroduce cartridge gaming to the landscape once again.
I had the chance to play the Chameleon at Toy Fair last month, and had a great time fighting my way through Legend from the SNES, a title that not many have ever heard of, let alone played… well, 'cept me that is, I still have copy in my library. Playing with a Super NES controller that ran into the console, I have to admit too that I didn't really give the whole setup all that much though. Apparently though, I should have.
The Chameleon turned out to be a conglomeration of SNES parts, combined with a capture-card, and shoved into an Atari Jaguar shell. And I don't mean that it was an 'SNES level' device that had comparable components, I mean that it was an SNES basically.
As you might imagine, the discovery of that led to a hundred and one problems for the little machine, and that brings us to this moment. The company that currently owns the Coleco name, River West Brands, has now severed ties with Retro VGS, who makes the Chameleon.
A representative of the parent company went on to tell website Polygon that they're still very much interested in bringing an original console back to market under the Coleco name however. So we still might see a new ColecoVision at some point, it just won't be the Chameleon and it won't be in cooperation with Retro VGS.
Source: MCV