This longer Direct is set to update us on the titles releasing by the end of Summer 2016.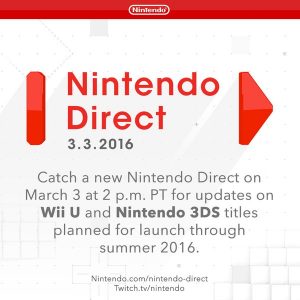 Now that you've finally finished watching that almost painfully long Nintendo Direct of last week, you can prepare yourself for the infinitely longer Nintendo Direct of this week.
Nintendo has announced that their next video news reel will air tomorrow, March 3rd, at 2PM PST, and explore the games for Wii U and Nintendo 3DS planned to launch through summer 2016, while also stating specifically that it won't feature anything about either NX or mobile.  Which shouldn't come as a surprise to those of us paying attention to their NX rhetoric (ie: "We'll reveal more at E3").
The games we can expect to see (and I'm going off-script here) include Metroid Prime Federation Force, Star Fox (with possible news of another delay), possibly Fire Emblem Fates Revelation, The Legend of Zelda: Twilight Princess HD, Pokken Tournament, Hyrule Warriors Legends, Mario & Sonic at the Rio 2016 Olympic Games, and likely third party titles like the 3DS Dragon Quest remakes and Bravely Second: End Layer.
Likely we can also hope for some new titles- perhaps including titles suggested by rumored 3DS plan leak.
As Zelda Wii U and Pokemon Sun and Moon are Holiday titles, don't expect to see anything on them.
Tune in tomorrow to learn as we do!
Source: NoA Twitter