Shown off at Toy Fair last weekend, Shazam (Captain Marvel to most people) is one of the latest additions to the One:12 Collection figure line.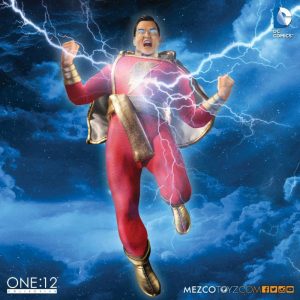 Some of the coolest figures you're likely to find pretty much anywhere, the One:12 Collection has been a revelation for collectors who prefer figures that feature cloth outfits. Good ones are not the easiest of things to find after all. Really, outside of Sideshow and Medicom, there isn't all that much out there right now- and there hasn't been for a while.
One:12 though, well it's pretty freaking awesome. And that brings us to Shazam.
Shazam (or, again, Captain Marvel until the New 52 revamp) is set to be the star in a new DC universe film at some point in the next few years. It's a film which'll also star Dwayne Johnson as his nemesis Black Adam – so the bottom line is that this is a superhero who's probably on a fast track back to glory.
This figure has a jump on that. Taking after the classic form of the character, who's been around since he debuted in Fawcett Comics way back in the 1930's, this is one awesome extension to the DC One:12 line. His look is iconic, and what most comics fans think of when they picture the hero. It's not all that different than the current DC Comics 'New 52' look, which has energy crackling across that lightning bolt on his chest and a hood that's… well, the less said about that the better.
Cap- Shazam stands in at 1:12 scale (hence the name of the toy line) and has a monster 32+ points of articulation. With a poseable cape thrown in, so you can make those super-heroic poses, Shazam also has a bevy of accessories, including extra heads and one of his greatest villains.

Scheduled to ship out some time in July or August, you can pre-order Shazam for yourself by hitting the above pic, for the tidy sum of $75.00 USD. Here's what's in the box:
Regular head
Alternate smiling head
Alternate yelling "Shazam!" head
Fists (L & R)
Flying hands (L & R)
Grabbing hands (L & R)
Mr. Mind
Mr. Atom
Attachable lightning bolt
Display base with posing post