The biggest presences at the DC Collectibles booth at Toy Fair this year was undoubtably the one-two punch of Icons and Batman: The Animated Series. That's not to say that there wasn't plenty of other stuff to keep fans happy though.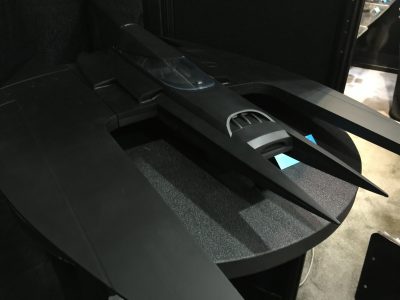 Oh man is DC on a roll with their big two lines right now.
For starters, Batman:The Animated Series is a runaway hit with some of the coolest figures out there- and it's somehow massively relevant even though it's based on a show that was new back in the 90s! It's not powered by nostalgia either, though there's a little of that in there too. These toys are legit.
I have a few of them (well, maybe more than a few), and after what I saw at Toy Fair this past weekend, I'm gonna need… oh heck, I'm gonna need all the rest. How does 'Christmas with the Joker' sound? What about 'Mad Love'? And how does a multi-pack with some of the coolest female characters to have appeared on the show (including Supergirl – *ahem*) strike you?
There's so much to like in this line I don't honestly know what was the biggest standout for me. If I had to pick one thing though, I'd more than likely have to say Clayface. Stunningly sculpted (the figure stopped me in my tracks) and coming packed with loads of extra parts, the polymorphic Clayface is definitely 'centerpiece' worthy, and is far and away one of the most impressive figures in the line.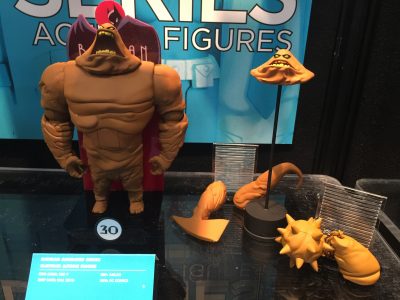 Again though, there are a load of figures coming up that are awesome. Talia, Zatanna, Batman Beyond, Firefly, (gone, gone oh form of man, behold the demon) Etrigan with Clarion, Harvey Bullock, and the Commish himself all hit the nail on the head and then some. If you're a fan, it's going to be a very, very good year.
Oh yeah, there's that Batwing (pictured above) to0. Forgot about that. Lights up, fits two figures, is massive… you know, the usual.
Moving over to Icons, you better believe there's a ton of great stuff coming up there as well. While the line started off with some complaints on the scale from fans, it's pretty quickly taken off thanks to the figures actually being pretty phenomenal.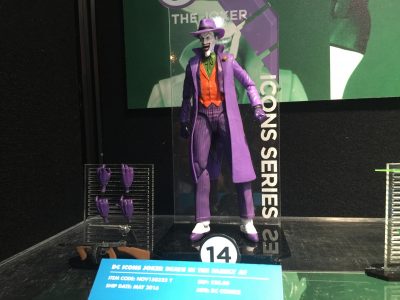 I heard from someone at the booth this year that the scale should be 'fixed' soon, meaning that the figures should fit right in with your old DC Universe Classics figures (from Mattel) pretty soon. Apparently, the scale difference wasn't intentional and kind of bummed out the crew at DC as well. So if it does bother you, well, look for that to be corrected some time this year.
Honestly, it bugged me too at first. At first. After I actually bought one of the figures (Flash), I kind of changed my mind. Sure I'll be happy when they all fit in with my other superhero figures, but I was so impressed with the sculpts and articulation on these guys, that I'm pretty happy with the line the way it stands now. And, I might add, about to get a whole lot happier.
Much like with the B:TAS line, there's some mighty impressive stuff on the way for Icons. Firestorm (looks incredible in person), John Stewart, Cyborg, Deathstroke, Wonder Woman, freaking Swamp Thing, and a Joker that's just too awesome in his 80s throwback trench, all headline the single figure and deluxe packs.
There's plenty more too though, with Batgirl (with her bike!), a massive Darkseid (with Grail), a Justice League collection, and a pair of accessory packs (with Starros!) all heading to retail as well. And yes, that League pack has both re-deco'd variants and all-new figures in it, modeled in the New 52 style. So you shouldn't be getting a double if you have some of them singly already.
As jazzed as I am for these two lines though, I have to give it up for most everything that DC Collectibles is doing right now. They're nailing it with reckless abandon in their statue lines, their Designer Series', and even their super-pets line which is rolling on with a quartet of new offerings.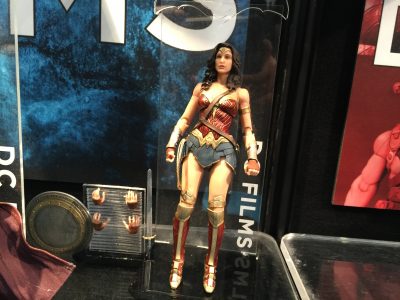 There's also a new DC movie and TV-inspired line which is all kinds of cool. They're a little pricey, coming in at around $45 USD a figure, but these 7″ tall toys are loaded with detail and accessories and look stellar. Batman v Superman and Man of Steel figures should be out sometime soon and all look terrific.
But enough chattin', scroll on down the page for the good stuff, shots of every single thing in the booth… including a life-size Captain Cold freeze gun from The Flash. Does it light-up? Yeah it does.