The biggest shopping day of the year means savings on some of the coolest stuff at Project TriForce.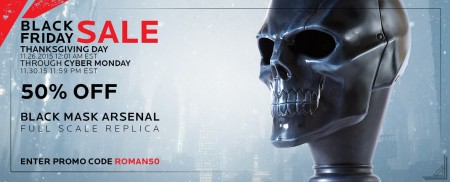 Big time savings on replicas like the Black Mask arsenal from Batman: Arkham Origins and TriForce's Tetrimino collection (yes, from Tetris) are live and ready to be taken advantage of right now. And while not everything is specifically 'on sale', buying pretty much any of it will get you money off in some fashion.
The Black Mask Arsenal is a meaty 50% off though (use code ROMAN50 at checkout), as are the Tetriminos, which have a staged sale price that scales with how many you buy. Here's how that breaks down:
2 Tetriminos – Use Promo Code TETRIS2 & save 15%
3 Tetriminos – Use Promo Code TETRIS3 & save 20%
4 Tetriminos – Use Promo Code TETRIS4 & save 25%
5 Tetriminos – Use Promo Code TETRIS5 & save 30%
6 Tetriminos – Use Promo Code TETRIS6 & save 35%
7 Tetriminos – Use Promo Code TETRIS7 & save 40%
So those are the dedicated sale prices, but everything else is on free shipping, which can add up to a lot of savings if you know the company. Just enter promo code SHIP to take advantage of that when you hit the checkout page. There are some exclusions though, and they're mainly items that are massive or on sale already, they are: Kraken, Nyx, Green Arrow Arsenal, Tetrimino Collection and Black Mask.
Click here to get in on the action. Happy savings.