Puro looks out for your kids' hearing with its new bluetooth headphones.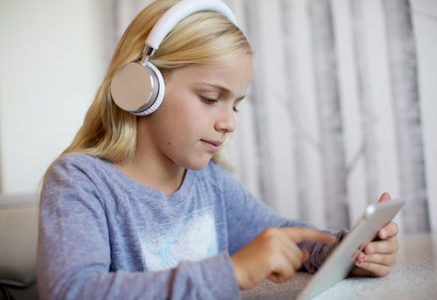 After reviewing the last pair of headphones that we got into the offices here at BG, I was left incredibly impressed with Puro Sound Labs. The company is one that I've never actually had on my radar before to be honest with you, but man I certainly should have been paying attention because the quality is excellent with sound to match on the IEM500's.
But while those in-ear headphones are made for adults (or kids I guess) with an eye towards hearing your tunes better without having to crank up the volume, the Studio Grade Kids Wireless Headphones that we have here today are a little different. Okay, actually they're a lot different.
One of the first things that I noticed about the KWH's (I'm just going to call them that for the remainder of this article) actually, is that this is one lightweight set of headphones. They don't weigh that much at all, and that's a very good thing considering that they're focused on children. They're also wireless, working via bluetooth, and can connect to anything that supports the technology.
And on a completely superficial level, they're really cool looking, and come in a few different colorways. Ours are cast with a tan leather headband and ear cups, as well as a gold outer shell on the ear-pieces. As you can see in the promotional images too, they're also available in all-black and gold and white.
The construction is quality and doesn't get in it's own way either. Located on the outside of the left earpiece are the controls, and this is the sole console of buttons and switches mounted on the headphones. At the top is the bluetooth indicator light, then the pairing button, followed by the on/off switch, the volume up and down buttons, the line-in port, and the USB charging port. Everything runs in a straight line right down the back of the earpiece and both looks good and is easy to use. The construction has a luxe feel to it, and that's always a good thing, not to mention rare for something that's aimed at the little ones.
The headphones do extend a good deal as well by the way. For kids, there's little chance that there would be an issue with fitting, but even most adults should be able to wear these. I had a few people try them just for fun, and the only one that had anything even close to a tight fit was me, and my noggin isn't exactly small.
Included in the box is a charging cable and, in a nice twist, an actual AC adapter for you to plug your USB cable into. You don't see that all the time these days with devices, so it's cool to actually get one in the package here. There's also a line-in cable so you can use the KWH's with devices that don't accept a wireless signal. You get a nifty velvet-like storage bag too, which is another nice touch.
But enough about the looks, lets talk a little meat and potatoes and get to the sound quality. The KWH's main hook is that it limits the sound that kids blast themselves with while listening to music, movies, or game audio. It's not that the KWH's are quiet really, as they do get up there and can offer a solid sound level that you can appropriately rock out with, but that sound level stops at 85 decibels. Why 85 decibels? Because that's the safe listening limit. If you go over that level of sound, you can expect to get some kind of hearing loss if kept up "over time", and that's not a great thing for anyone.
Using these headphones though, you won't have to worry about that, as they physically can't go over 85dB. And while we're talking about eliminating excess sound- the KWH's also feature some passive noise-cancellation with up to 82% of "ambient noise attenuation". Not bad at all as a bonus feature, but lets get back to the sound.
Before you get all in a tizzy about not having a super-loud pair of headphones with the KWH's, I want to reinforce that that's not a bad thing, and it actually doesn't hinder the headphones. Sure you can't really blast them and pound your eardrums into submission, but that's kind of the point; kids are the main demographic for these, remember? Cranking up the tunage to max levels isn't something that you actually want them to do.
So while the KWH's sound great, and can give you a decent level of audio (just not deafening), they won't drown out the outside world completely with their volume. Now, if you're an adult looking at headphones for yourself, that's could be something that would be a strike for you, but if you're a parent looking at buying these for your child, it's a pretty big plus.
I should also say that the KWH's work with the official Puro EQ App for iOS and Android. As I mentioned in my review of the aforementioned IEM500's, the app works pretty well and can detect and play all the music that you have stored on your device.
The equalizer settings (and presets) are fun to fool with and really do improve the listening experience. As I also mentioned in that other review though, there's no shuffle feature, so if you want to mix and match your tunes- make out a playlist. The EQ app can detect those and play them to your heart's content without issue.
Final Thoughts
I usually don't review devices that aren't aimed at someone even remotely close to my demographic, but I made an exception here for a few reasons. For starters, the Puro Sound Labs Kids Wireless Headphones are just really neat looking, and backing that up – they have a terrific functionality that I really think is excellently implemented.
No, they won't blow anyone away with volume levels, but the idea to have a pair of headphones that will actually 'look out' for young listener's hearing is pretty great. What you get in this package is a terrific quality pair of wireless headphones that can work with almost anything, and look awesome doing it.
Another feather in the cap of Puro Sound Labs.
*Just a note here that these aren't available in stores as of yet, but you can snag 'em on Puro's website, which just so happens to be right here.
This review was based upon a pair of Puro Sound Labs Kids Wireless Headphones supplied to Brutal Gamer by Puro Sound Labs