Headphones that you won't need to crank the sound up on to enjoy your tunes? Believe it. Pro Sound's IEM500's deliver.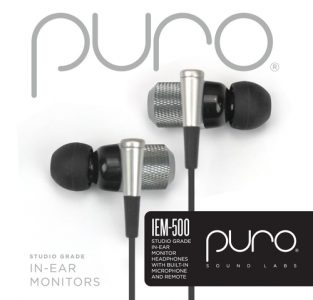 As I assume you have as well, I've worn more than a few pairs of headphones over the years. When I first started toting around a Walkman with me wherever I went, I wore a really terrible over-the-ear set. They were annoying, let in tons of outside sounds and generally didn't look anything close to what I'd call 'cool'.
Graduating to earbuds, I found my sweet spot for walking around/exercising. I often find myself browsing through the list of earphones for running on MusicCritic, and they have a lot of great quality options reviewed. When I got the Puro Sound earphones the running times have slightly increased, not because I am giong slower but because I am running longer miles. Basically, if I'm not at home listening in my favorite chair (or working at my desk), I'm wearing in-ear headphones to enjoy my tunes. This isn't a perfect solution though, as most in-ear sets are not all that comfortable, have crappy seals that cause them to tumble out of my ears at inopportune times, or just flat-out don't have a great sound quality for one reason or another.
I've been more than fortunate though, to try a few that've fit the bill for me nicely, but there's usually something with them that I have to overlook, and there's always something that's a little better waiting right around the corner. Which is kind of where I'm at with the IEM500's from Puro Sound.
I wasn't all that familiar with the Puro name when these headphones came in to the BG offices for review. Unlike a lot of other companies out there, Puro Sound has a 'hook', something that sets them aside and makes them pretty different from the pack. And basically, that hook is that you don't have to crank up the volume to get sound that you're going to enjoy.
Puro calls themselves the Healthy Ears Company, and it's easy to see (or hear) why from these headphones. The IEM500's are designed so that you get great sound, with clarity and a thumping bass, but without having to turn the music up so loud that you damage your ears- which isn't an end result that anyone would want.
Now I'm not exactly the most well-versed on the technical aspects of audio equipment, but I do know what sounds great, and these do. How do they do it? Well, according to Puro, it's the "patent-pending technology" that they've built into the phones that eliminates the bass that can get in the way of you hearing the vocals. And in turn, that distortion causes you to crank the volume, which can be dangerous. Now before you freak out, remember that I said that the actual bass on these is pretty terrific, so there's a fine line being trod here, and it's one that Puro walks deftly.
Inside each bud, you'll find a pair of dynamic, custom drivers, including a woofer and a tweeter. According to Puro, the system that's created from having all these elements working in concert gets rid of all that distortion and auditory junk that gets in the way of the clarity of your music. And as far as I can tell, it works really well.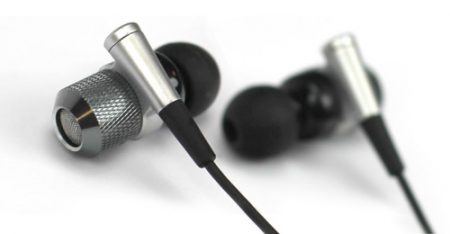 The IEM500's have a fantastic quality that really does sound as clear as a pin drop. At almost half the volume levels that I normally listen to music at, I was able to get a flat-out amazing sound out of these headphones. playing everything from Daft Punk's Tron soundtrack to The Lyre Ensemble, Don Henly, U2, Foo Fighters and a few dozen other bands, the IEM500's pumped out a consistently clear and clean sound.
It was so good actually, that I heard stuff in some of these tracks that I haven't heard before. Little things here and there. Stuff that's normally lost to the distortion that Puro talks about I suppose, was apparent as all get out using these headphones. Oh, and the bass is great. The IEM500's are apparently quite versed at filtering out the bass that gets in the way, while still providing plenty of the kind that you actually want to hear.
And speaking of 'hearing', these also come complete with a microphone mounted on the left earbud's cord. The mic seems a pretty good quality, and Puro says that the little guy filters out the familiar sounds that occur when it brushes against a shirt or jacket. From what I heard that's true, as my conversations were odd-sound free.
There is a little bit of a bummer with the mic system though, and it's that there's no volume/track up and down. You basically have one big button that's moulded to fit the shape of your thumb and that's it. The button can pick up and terminate calls, as well as play/pause music. Beyond that though, you'll have to pull out your phone or musical device.
While that part's not so great, I am happy to report that the headphones are quite comfortable. Shipping with a selection of tips that are quickly interchangeable, the IEM500's should have a great fit for just about anyone. They stay put too, as I don't have the greatest history with earphones actually staying in my ears, and these did that quite well, even on long walks and while using a treadmill. The tips provide a solid level of background noise blocking too, thanks to a seal between the tips and your ear canals that's touted by Puro.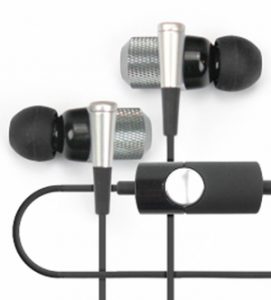 A few last odds and ends are the 'sock' that's included to keep your headphones in. That's Puro's word for it by the way, not mine, and it's incredibly fitting. The sock is basically just that; it's a small sock that fits your phones and keeps them from getting all tangled in your bag/pocket/ whatever. And then there's the app.
Available right now for iOS and coming soon for Android OS', the Puro EQ App is all about setting up your headphones for playing the various kinds of music that you feed them. The free app detects all the music that's loaded onto your device automatically, and comes with a handy set of presets for equalizer settings fitting a bunch of different genres. Don't like what they have built in? Then you can alter it to a custom setting at your discretion.
At first I figured this was going to be a little add-on that wouldn't be much, but the app works great and I actually really like it. It's not perfect though, as there's no shuffle or repeat feature. You can select a song, album, artist, or playlist though, which is a nice little extra that can at least sort of take the place of a shuffle feature.
As a freebie, and one that's not even really mentioned to deeply by Puro, it's pretty cool and I can't complain all that much about it.
Final Thoughts
If you're in the market for a new pair of wired in-ear headphones, you're going to want to take a good look at Puro Sound Labs IEM500's.
Great sound quality with clear audio and solid bass highlight a pair of headphones that have an eye on protecting your hearing. Not that you'll notice the lower volume levels (and you can still set them higher if you like) since music played through these bad boys doesn't really require you to pump up the jams unless you're walking past a construction site.
Just about the only drawback here is that there's no volume/track up/down housed on the in-line mic. But with a pretty full set of features aside from that (and a cool silver metal housing too), and a fairly reasonable $199.99 USD price point, you probably won't mind all that much.
*Just a note here that these aren't available in stores as of yet, but you can snag 'em on Puro's website, which just so happens to be right here.
This review was based upon a pair of IEM500 headphones supplied to Brutal Gamer by Puro Sound Labs