StoryToys brings an educational puzzle game to iOS.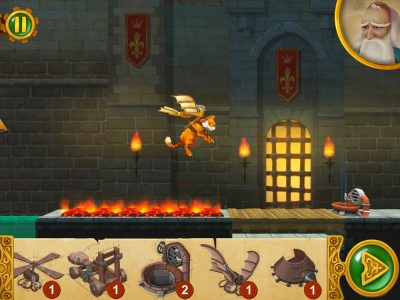 In Leonardo's Cat, Leonardo and Michelangelo are rivals. Michelangelo has stolen Leonardo's latest invention, the Automaton. It is up to Leonardo's cat, Scungilli, to search for it. Use Leonardo's inventions to help Scungilli overcome obstacles and avoid traps. Your prize will be the missing parts of the very first robot.
Experiences include:
Travel the beautiful environments of 16th-century France, as you work across 60 unique puzzle levels.
Beautifully animated cutscenes starring Patrick Stewart as the voice of the great Leonardo da Vinci.
Captivating soundtrack inspired by the Renaissance world.
Incredible inventions, the likes of cannons, catapults and ornithopters!
Leonardo's Cat will be available soon on the App Store for iPhone, iPad and iPod touch for $2.99.
More information can be found at leonardoscat.com. Brought to you by the team at StoryToys in Dublin, Ireland.
source: gamespress