Fans of The Dark Knight Returns and Mezco's One:12 Collective can finally pick up a Mutant Leader to add to their collection.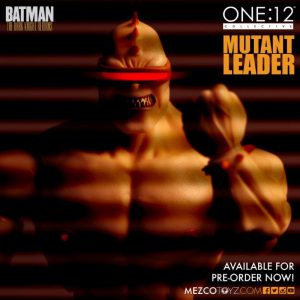 Originally seen as a kind of set piece, locked in combat with the company's Batman figure, the Mutant Leader from the Frank Miller classic was released as a part of a special two-pack at NYCC a few weeks back. Now though, you can order one up for yourself without the battle-damaged Bat as accompaniment.
Done in the One:12 style, the Mutant Leader includes all the trappings that you'd expect from an offering of the line. And by that I mean an insane level of detail, some of the most realistically-done clothing I've seen on a toy, and some massive poseability.
Here's what's included in the box:
– Real leather-like pants
– Incredible sculpted details capturing the brutal rage of the character
– 80's style sunglasses from the comic book
– Studded punk rock belt
– Sub-dermal body spikes
Included with this figure:
Alternate head with broken nose
Alternate head with gritted teeth and glasses
One set of fists
One holding hand
One posing hand
Torch
Crowbar
Display base and posing stand
Oh, and about that box; it's got five-panel, window construction, complete with an acetate slipcover. And all that basically means that it's extremely collector-friendly, and you should be able to remove the Mutant Leader for display and slip him back into the carton without issue.
If these go as fast as the Batman figures did, then you might want to order up fast. Pre-order one for yourself by clicking here, he'll be hitting some time in December or January.