Nintendo serves up new details, and we smash them down.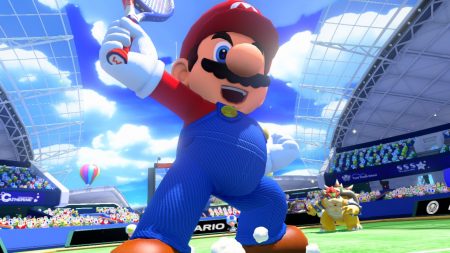 Nintendo has announced more details about Mario Tennis: Ultra Smash.  The game unsurprisingly features amiibo compatibility, wherein players can face or work beside Mario, Luigi, Peach, Bowser, Yoshi, Rosalina, Wario, Toad, Donkey Kong, or Yarn Yoshi amiibo (though it is assumed you won't be facing an actual Yarn Yoshi) in the game's Knockout Challenge mode.
Speaking of modes, the list is sparse:
Knockout Challenge: Tiebreak matches against CPU acts as this game's single-player mode.  The opponents get progressively tougher, and players can use those aforementioned amiibo as allies.
Mega Battle: The dream for multiple items changing up Mario Tennis is Ultra Smashed: it seems only the Mega Mushroom will be hitting the courts in the Mega Battle mode.  In this mode, players grow to enormous sizes in order to lay the smack down.
Classic Tennis: Variations of Classic Tennis either remove Mega Mushrooms (in Standard Mode), or take out both Mega Mushrooms and Chance Shots (in Simple Mode).  It remains to be seen if the new Jump Shots are still featured in Simple Mode, as Nintendo says simply, "[it] puts competitors on the court with nothing but the net and the ball," (and presumably tennis rackets).
Online Multiplayer: Play off against worldwide opponents in ranked play (including Mega Battle and Classic Tennis modes) or casual matches.  You can take a local friend in for some doubles, or even enlist your amiibo as a partner on the online sphere.  It'll be interesting to see how my Peach and Donkey Kong can handle themselves on the courts.
While the modes seem anemic, I'm still happy to see the Simple Mode, where I can play without Chance Shots.  It'd be nice to be able to turn on and off various pieces of the feature set (keeping Jump Smash and Mega Mushrooms on, and Chance Shots off, for example), and it's too bad we're not seeing more items than just the one.  Still, I'm looking forward to getting my friends together to hit the courts later this year.  Nintendo has also released a new trailer, showing off some of the characters we'll get to play as.
Mario Tennis: Ultra Smash releases on November 20th in North America, and launches for the somewhat bargain price of $49.99.