Grab a Nintendo 2DS and Yo-Kai Watch for only $99.99 when the game comes out November 6th.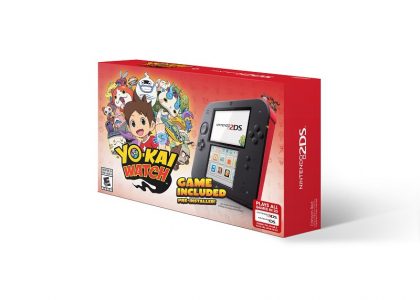 A hundred bucks for a new ($40 MSRP) game and an entire console is an amazing price: especially if you haven't picked up any console in the 3DS family.  Not to mention, $100 is an acceptable price to pay for a kid.  If Yo-kai Watch is to be America's next Pokemon, such killer deals are a good call.
If you're interested, keep in mind that the 2DS lacks the 3D feature and the clam-shell design of the 3DS, nor does it have any of the advancements put forward by the New 3DS.  Still, for a hundred bucks, you're still getting the ability to play a huge library of great titles such as Fire Emblem Awakening, Animal Crossing New Leaf, and The Legend of Zelda's N64 line-up.
Yo-Kai Watch, by game developer Level-5, is a huge hit in Japan (where there's also a Yo-kai Watch Just Dance game), with features similar to Pokemon, in so far as players find, befriend, and battle with demonic creatures (here, just Yo-Kai).
Game and Bundle both release on November 6th, for $39.99 and $99.99 respectively.