Already a pretty terrific Android pad, Mad Catz' CTRLR is about to become another option for PC gamers.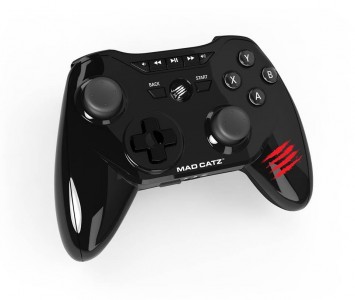 Part of Mad Catz' GameSmart line of controllers and accessories for mobile-minded gamers, the CTRLR operates via Bluetooth and already connects natively with Amazon's Fire TV, the M.O.J.O. Micro-Console for Android, and pretty much anything else that bears the Android operating system. And now through the magic of the XInput protocol, it'll connect to your PC as well.
"Our range of GameSmart controllers are each designed to be forward-facing with the ability to evolve with the industry and offer compatibility across a wide variety of mobile and home devices. Today's announcement brings yet more value to a console-quality controller which stands ready for the demands of modern gaming," said Darren Richardson, President and Chief Executive Officer of Mad Catz. "Streaming services such as Steam Big Picture, is the perfect example of players migrating their gaming experiences and playing over multiple devices.  We believe our entire GameSmart range of mobile products is positioned to capitalize on this emerging trend and will contribute to our future sales growth."
As you might imagine, the controller update is free of charge, and will give your CTRLR not only compatibility with most PC games out there, but also a link to Steam's Big Picture mode. And if you've never used that, it basically turns your PC into a gaming console with a very controller (and TV) friendly layout.
To download the update and get to gaming with your CTRLR, hit this link right here. And to just read more about the controller itself, head here.