Valiant's big event book for the Fall comes to a close in the fourth issue of Book of Death, and it's one not to miss.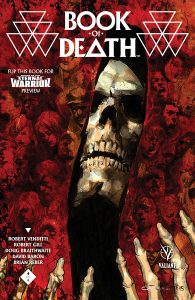 Well… I"m not going to spoil much here. But that effort, and it is quite an effort, isn't going to be easy. Book of Death's conclusion packs a monster of a punch, and adds an exclamatory punctuation mark on what's been an excellent tale overall.
Book of Death did have a few ups and downs, no doubt, but the quality of the narrative has been strong throughout and the ideas that have come across have been gems for the large part. In the fourth issue, which is still a ways off as of this writing, we get the payoff for all this, and it's a dual layered one that sees the end of a few trails that the Valiant universe has wandered for a while now.
While I won't wreck the story any for you, I will say that both Gilad the Eternal Warrior and series villain Master Darque have a definitive change of fortunes by the end of this one. Some of what happens is quite shocking to say the least, though I imagine that all of it will lead into some even stronger tales to come.
Talking a bit about relatively non-spoilers for a minute, we also see the inclusion of Punk Mambo as goes the Unity team. I like this from a few standpoints, not the least of which is that she's a cool character and that it's good to see the mystic side of the Valiant U getting some attention that will hopefully last past this mini-series. It's also kind of fun to see the banter between her and Ninjak, he's such a jerk.
The writing in general is terrific though, thanks to the talents of Robert Venditti who's done a masterful job weaving this story of a world gone mad. Even though Book of Death tells a heavy tale across the boards, filled out by one of the most purely evil characters in Valiant's books (Darque), it's not without it's lighter moments that serve to give readers a momentary respite here and there (see Ninjak and Mambo).
And the conclusion… well I'll just leave it with 'I didn't see that one coming', and stop there. Questions abound.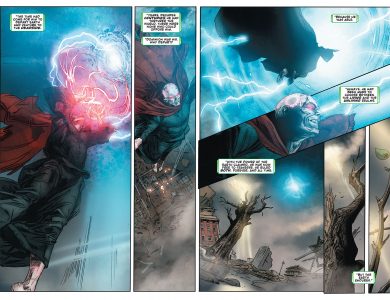 Thankfully, there are no queries whine comes to the artwork, as Robert Gill and Doug Braithwaite team to provide a once again fantastic trip through Valiant's weirder side in issue 4 of the book. With a great 'superhero-y' vibe to it, the art pops of the page with a bright an colorful look, even when things get Darquest… I mean dark. And I also have to mention once again the color work on the supernatural enemies set against Gilad here.
I don't think I'm spoiling too much to say that Darque's forces are cool as all get out, and once again have that neat, eerie blue glow to accompany their undead looks. Shadowman fans will know what I mean by that, as I raved about the 'special effects' in that book to no end.
Final Thoughts
Book of Death is a beast of a crossover, that somehow maintains a 'big' feel while also holding onto a smaller tone, especially when everything's distilled down to Gilad and Tama the Geomancer against Darque. It's awesome and comes off exactly how I hoped it would, right down to the bittersweet ending.
If you're in any way a Valiant fan, then this one's as close to a 'must read' as you can get, and well worth the time.
This review was based on a copy of Book of Death #4 supplied to BG by Valiant Comics.