Leaf through some of the best video game art wrk out there today in a book that doesn't bother to get entrenched in the boring argument of whether or not games are art, but instead just moves forward with the premise that they are.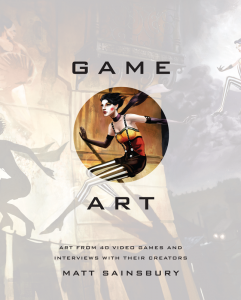 Right off the bat, let me just say here that I know Matt Sainsbury, the author of Game Art. He's someone that I'd consider a friend, and someone that I used to work with on his site Digitally Downloaded. DDNet is a video game site first and foremost, but it's also a place where Matt gets into some of the themes that make games great.
While we here at BG focus in large part on news about the industry, the games that make it go, and reviews thereof (something that DDNet also does), Matt's really shifted the focus of what his site is. He's made it more about the art form than what you might be used to as a reader, and added in an Eastern bent.
His first book is something very similar to that and seems to follow much the same philosophy. Game Art focuses on, what else, game art – but it does so in a very interesting way that most books like this don't. Game Art fills you in on the main themes of the games it covers, and lets you know in no uncertain terms what the thoughts were from the development teams that made them.
All in all, there are 40 games listed and delved into in the tome, so if you enjoy video games (and I assume you do since you're, you know, here) then there's probably something to like. Personally, I'm not even all that into modern Eastern games or the very unique flavor that they tend to carry across, but I still enjoyed very much what Matt put together in Game Art. It's kind of hard not to though, as the book's incredibly well laid out and just plain fun to page through.
Broken up into main sections that are then even further broken into sub-sections that cover pretty much every corner of the landscape, Game Art remains a fresh read that moves you through its pages quickly. You won't get bogged down here, that's not what the book is about, but flipping quickly through isn't really something that you'll want to do either, as the text is pretty much just as interesting as the artwork.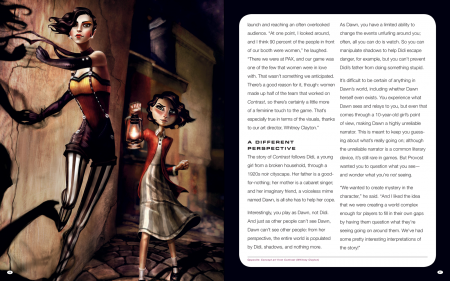 Just to give you an example; the fourth main section of the book is titled 'Pushing Boundaries' and is then divided into 'Idealized Fighters and Stylized Violence' and 'Sex and Violence' sections. While Idealized Fighters talks to Yosuke Hayashi of the Dead or Alive and Ninja Gaiden series', Sex and Violence chats with none other than Goichi Suda, who you know from games like Lollipop Chainsaw and Shadows of the Damned (which is a personal favorite). And again, while you have big, splashy imagery from Killer is Dead running along the top of the page, the text box below talks up the figure that Matt calls the "Quentin Tarantino of game development" and fills in his history and what his thoughts were heading into the games pictured.
It's a cool way to present the idea that the artistic side of game development isn't just about the images and massive visuals that games assault your eyes with, it's also about the thought that goes into these creations and the creations of their worlds. And it's thought that, at times, can rival the film industry in creativity and scope. When you think about it, that's really something to say.
Also kind of cool is that the companies and people covered here aren't all of the same level; heck, even some of games in the book that come from the same person (like the aforementioned Suda) aren't of the same level. And by all that I means that on one page you'll see BioWare's Dragon Age Inquisition, and on the next you'll find Gamebook Adventures from a little developer in Matt's native Australia. It's an interesting cross section of the industry, and while not everything presented here is going to be for everyone that reads Game Art, it's all pretty interesting on one level or another.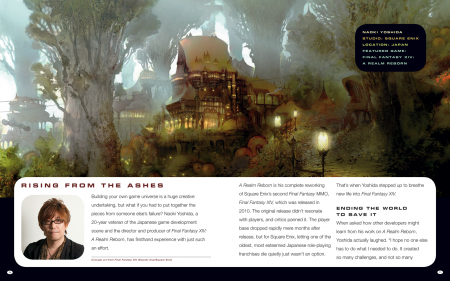 I should also mention that the pages of Game Art are finished nicely, and the book has a definite 'heavy', quality feel to it. This isn't a little nothing of a 'collected edition' that you'll probably never look at again if you bring it home either, and I get the feeling that it's something that will be pulled form the library on occasion and leafed through, even after you've read it cover to cover.
Final Thoughts
Game Art is a quality and original take on the industry that we love, plain and simple. It also expands on some of the ideas that went into the games that it covers, not just shows off their good looks, and that's extremely admirable. Not that you shouldn't think that there's plenty of that in there too though, as pretty pictures abound in this volume.
While I would have liked to have seen a little more on Western-developed games, and maybe something on some classics from the golden age of the format as well, it's hard to find major fault with what Matt Sainsbury has assembled here. Maybe best of all, Game Art is fun, much like the subject that it tackles – and what's better than that?
This review was based on a copy of Game Art supplied to BG by No Starch Press