The most famous of Mega-City One's Judges, Dredd and his awesome Lawmaster motorcycle from Mezco Toyz' One:12 Collective line are on the way for early 2016, and can be pre-ordered right now via Previews magalog.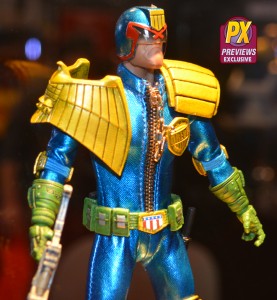 If you know Mezco's One:12 Collective series of figures, which is really just kicking off, then you already know what to expect from this one- but I'll say anyway that it's freaking awesome. And if you're a fan of Judge Dredd from 2000 AD comics, then you're going to be happy with this release; I don't think there's much of a chance of anything else.
Basically, Mezco is working on a version of Dredd and his bike (the Lawmaster) from the comics, and they're about as perfect a translation to the physical form as you can get in a whole bunch of ways. Much like the Batman (from The Dark Knight Returns) figure that was the first figure launched in the series, Dredd has a real cloth costume that's actually scaled properly and looks 'right' (that's the best way I can think of to put it), as well as interchangeable parts and accessories.
Then there's the bike, the creation of which involved artist Ben Willsher. The Lawmaster has a full set of lights and sounds – for both the weaponry and the engines, and will also feature real rubber tires and (and I love this) storage for Dreadd's cuffs. It's just about as accurate and authentic as you can get, and it's as impressive-looking as you can imagine as well. Just a look at it sitting in the display case at Comic Con had me wanting to grab it and add it to my shelf. It's just so darned awesome.
If that sounds like something you might think as well, then you'll be pleased to know that the box-set is pre-orderable right now via Previews magalog. Featured in the October issue, the Judge Dredd figure and the Lawmaster motorcycle won't keep you wanting too much longer either, as it'll ship in January of 2016.