You won't have to go digging around in any ancient sites to get your hands on the special editions that are set to debut for Uncharted 4: A Thief's End when the game hits retail next year.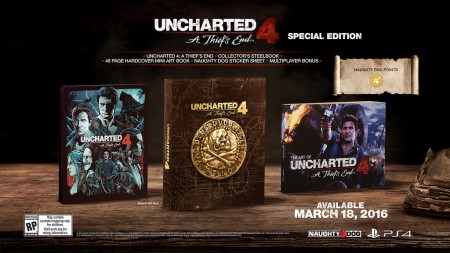 Careening into retail stores and the PSN like Nathan Drake driving a somewhat less-than-roadworthy truck, Uncharted 4 will boast a quartet of editions to pick from when it arrives in 2016. There's the standard vanilla edition of course, but then there are also a set of three special editions, all of which hold something cool for longtime fans.
Starting things off is the Special Edition, which includes a copy of the game in a steenbok case designed by Alexander Iaccarino, a 48 page hardcover art book from Dark Horse Comics and Naughty Dog, a sticker sheet, and a pack of the game's in-game currency which will unlock multiplayer content. That set will retail for $79.99 USD, which isn't bad at all for that stuff – especially the art book which is probably in the neighborhood of thirty bucks all by itself.
Going one step further is the Libertalia Collector's Edition though, which will run you $119.99 USD. This is your big boy, and includes everything that you see above, plus a 12″ statue of Nate, three multiplayer outfits that reflect Mr. Drake as he appeared in past games, two weapon skins, a baseball cap with the Henry Avery Sigil, and some Madagascar sidekick outfits. Now that's loaded.
If you dig your Uncharted to be more of the digital variety though, then there's also the Digital Deluxe Edition. Sans a retail box, this edition gets you the game plus the Uncharted 4 Triple Pack, which contains the first ever single player story add-on for the Uncharted series and a pair of multiplayer packs. You'll also get instant unlocks for two, multiplayer customization items in there.
The triple pack, by the way, can also be bought separately, and if you've already pre-ordered the standard digital edition off of the PSN, you're free to upgrade to the Deluxe Edition for $20.00 USD more. You can read more about the special editions (and see more pics) at the link here, which heads over to the Playstation Blog.
Now, choose wisely…