The Force will be with this beta test.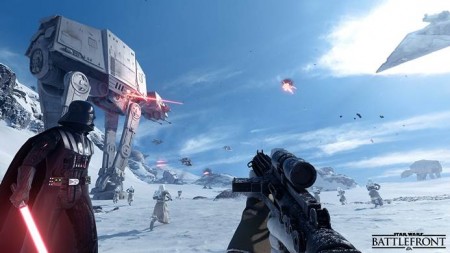 Yes, there shall indeed be a beta for Star Wars Battlefront. The reborn game will be opening up to gamers, and giving them an early taste of what's coming for the full game. You'll be able to play through the 40 player Hoth level, with Rebels vs Empire, and even take control of both Darth Vader and Luke Skywalker.
Additionally, you'll be able to get down and dusty on Tatooine, playing a co-op survival mission as the Rebellion, staving off Imperial troops. There's also a new mode called Drop Zone that you'll be able to test out, though DICE is being mum on what that will entail at present.
You'll even get to use the Star Wars Battlefront companion app, which is kind of loaded up with content like a 'strategic card game' called Base Command, and the ability to unlock a bunch of in-game stuff through Credits.
Overall, it's a pretty loaded beta, and one that should keep you busy till Star Wars Battlefront hits with its full on retail release for the Xbox One, PS4, and PC on November 17th. We'll have more news on the specifics of the test, as they're released.