A future dystopia might not be the most original of concepts in gaming, but developer Deck13 is taking the idea to the nth degree with The Surge.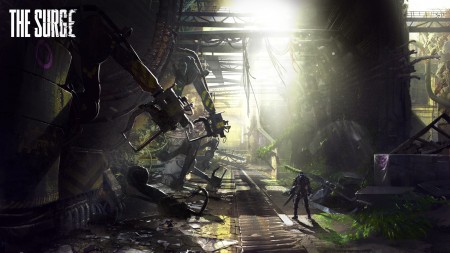 It's a dismal picture of the future to be sure that's pictured in the imagery that accompanies this story, but it's pretty freaking cool too. The Surge tales place in a very dark future, one that seems a little too likely given the current tract that humanity seems to be on.
Set in a heavily dystopian future as Earth nears the end of its life, those who remain in the overpopulated cities must work to survive as social programs become saturated by an ageing population and increasing environmental diseases.

As the intelligence of technology incrementally increased over the years, many jobs for the human race had been made redundant, forcing Earth's citizens to head out into the suburbs seeking labor, aided by exoskeletons to improve their efficiency. The world of The Surge offers a very grim vision of the future, where the evolution of our technology, our society and our relation with the environment led to a decadent state of the Human civilization.
You better believe that's some dark stuff, but it's got potential. As for the gameplay in this action/RPG, developer Deck13 promises that there's some innovation to be had in combat. And apparently the battles that you'll fight in The Surge will lead directly into the upgrade system, which is of a modular nature.
Lots more to come on this one, including the platforms and release date, which have yet to be announced. Stay tuned!