Street Fighter Unlimited is coming from the prolific art book creators at Udon.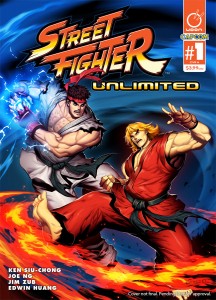 There's probably not a better choice for this one, as Capcom has tapped Udon to publish an all-new monthly Street Fighter comic under the banner of Street Fighter Unlimited. What's so 'unlimited' about it? Well, for starters, it's set to star not just a handful, but the entire roster of Street Fighter characters.
The new monthly series will be helmed by returning Street Fighter scribe Ken Siu-chong (Street Fighter™ IV, Super Street Fighter™), while pencillers Joe Ng (Street Fighter™ Origins: Akuma) and Edwin Huang (Skullkickers) will trade off art chores tackling 4-issue story arcs. The story promises to be UDON's most epic  yet as fan favorites Ryu, Chun-li, Guile, Ken, Alex, Cammy clash with not only the villainous Shadaloo organization, but also the invincible Gill and his cult-like Secret Society. It's all leading up to a new Street Fighter Tournament featuring more World Warriors than ever before!
Sounds pretty good, and I like the idea of limiting arcs to four issues, makes it way more accessible to readers who might not be as familiar with Street Fighter and its myriad of characters and backstories as those who play the games.
Also bound for each issue, will be a four-page bonus story. This extra tale will feature a rotating team of creators in the vein of Jim Zub, Adam Warren, Chris Sarracini, Jeffrey "Chamba" Cruz, Omar Dogan and others. Those are all names that comics fans and Street Fighter fans should know, which is very nice indeed, and lends to the feeling that this series should be one to watch.
Round one starts when Street Fighter Unlimited #1 hits the racks this December.