Crom! The barbarian and his lady come face to face with the horror that lives deep within the city of Xuthal.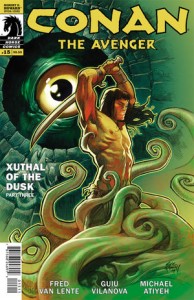 I have some great memories of Dark Horse's Conan tales, from the early run of the book. The adaptations of Robert E. Howard's fantastically detailed and historied prehistoric fantasy realm were excellent across the boards in those early books.
Not that I read them as they were released, no, I actually picked them up in graphic novel format maybe about 6 or 7 years ago. I was pretty addicted to them though. Basically, picture a sort of mix between Lord of the Rings and Game of Thrones, but with one of the most badass heroes you could imagine stuck in-between all the scheming and warring, and you've got a good idea of what to expect from Conan.
I forget how many books I have on the old shelf from that run, but there are a few. As for why I stopped buying them, I honestly have no idea, but reading Conan the Avenger #15 here, well it's got me thinking I might have to get back to Hyboria sooner than later.
I did manage to read issue #14 before this, so I actually have some idea of what's going on as the Xuthal of the Dusk arc comes to a close. Basically, Conan and his gal Natala are trapped in a dark and forbidding city called Xuthal. They ended up there after looking for a resting place as they journeyed, but they found a lot more than what they bargained for.
What they uncovered was a race of 'sleepers', people under the spell of a drug-like drink that made them forget all about life and just… sleep. Thing is, there's a monster in the city as well. Something that they call a god (though it's unclear what it actually is) is stalking their sleeping forms and devouring them. They don't really care though- remember that drug? Yeah, apparently it's that effective.
In the midst of all this, the pair run into a woman from Stygia (another land in the world of Conan) who's basically given herself run of the place in pretty much everyone else's slumber. She wants Conan for herself, and knows that to get him, she'd best get rid of Natala.
That pretty much brings us up to present, in an issue that's a little slow-moving and yet has a great payoff with some cool action at the close. Natala and Thalis the Stygian face off, and a monster of the highest level rears its ugly (make that hideous) head. This sets things up nicely for Conan of course, and an epic brawl at the conclusion.
It's not really all that epic of an issue, but it's still plenty fun as writer Fred Van Lente hits all the Cimmerian high-notes. There's plenty of action at the end, so much that it pretty much makes up for the lack of it all issue long, and there's even some pretty disturbing stuff involving Natala being the victim of some impromptu torture. She's not a fighter in the least, and that's obvious here, though Conan is another story.
Guiu Vilanova provides the pencils here and does a good job with the gritty, fantasy world that Howard created all those years ago. Particularly cool are the visuals of the first scenes in the book, and a circumstance that finds Natala and Thalis in the darkness of some creepy tunnels. It's all done in blues and black and it looks awesome. The fight at the end is pretty cool too, though you probably already figured that one out.
Final Thoughts
It's hard not to like a good Conan story, particularly when all you hear in your head as you read is the voice of Arnold Schwarzenegger from the movie version of the character.
Lente's conclusion to Xuthal of the Dusk, while it might not be anything earth-shaking, comes off very solid too, with good action and a pretty interesting story. I would have actually liked to have learned a lot more about what the 'god' of Xuthal actually was, but then again, that's Conan for you. I've found that most of the stories starring the barbarian have more questions than answers. A fact that probably has something to do with him not really caring about those answers.
If you've been reading the arc all along, then by all means grab this issue. If not though, then by Crom you'll want to start with Conan the Avenger #16, which lands next month and kicks off the Blood Oasis storyline, as Conan and Natala continue their trek across the desert.