Valiant's Dead Drop mini-series gets a whole lot more interesting in terms of backstory, if not the narrative at hand, in the second issue.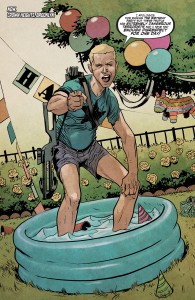 Right away, you're going to notice a big difference between issues 1 and 2 of Dead Drop. Mainly, that's because there's no X-O Manowar in this one. Aric has been pulled off the mission, infected by a mystery virus (though he'll be fine), and Archer (of Archer & Armstrong fame) has been activated by the shadowy Unity frontman, Neville Alcott.
Personally, I like X-O a lot as a character. I like Archer as well, but he's not X-O and the 'epic' level of the tale gets knocked down a bit by the swap. That's kind of one of the points of the book though, to switch things up and have a different hero star in each separate issue. It's actually a pretty cool idea, it just changes things a lot, which is both good and bad.
Archer isn't a straight-up comedic character, but he's close. Issue #2 of Dead Drop is filled with funny lines and semi-lighthearted moments as Archer makes his way through the NYC transit system, hunting down the now pair of mysterious terrorists that have some kind of stolen virus and were miraculously able to evade Aric in issue #1.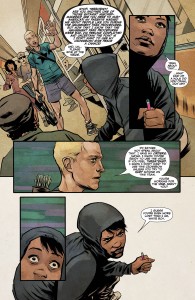 Yet, even if the tone changed and the book doesn't have the gravitas of the previous issue, there's more than a reason for Valiant fans to pick this one up. And basically, that's because there's something major happening in the background.
I don't know what it is yet, as writer Ales Kot is doing a fantastic job of hinting at things without spilling the beans, but there's… something. Creeping around in a few of Valiant's comics as of late is the fact that there's something not quite right about Neville. Dead Drop #2 puts that right out there at one point, and gets curiouser and curiouser with mentions of The Vine (the alien race that Aric abducted by and then at war with) and some kind of setup happening.
For that conspiracy stuff alone Dead Drop is shaping up to be a fantastic read. Couple that with the fact that Kot's script is fantastic (even if I'm not al that crazy about the character choice in the issue) and Gorham's art is really cool, with a neat urban vibe to it, and you've got a comic that I can heartily recommend.
Final Thoughts
I really like what's happening in Dead Drop. Sure the second issue stars a character that I'm not really a big fan of, but it's undeniably well written and illustrated, and the story itself is only getting better. Especially if you're a fan of conspiratorial tales, don't hesitate to pick this one up.
It might not have the punch that an X-O Manowar brings, but it's still a terrific read, and sets up the future action nicely. And I have a feeling that this is going to be a sleeper of a story, with a reach that will be felt in the Valiant U for quite some time to come.