If you're a Dark Knight Returns fan, you're going to want this bad boy from Mezco Toyz.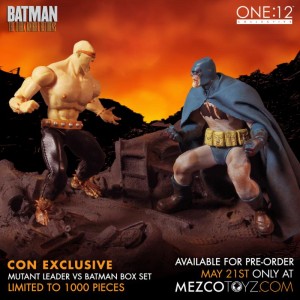 Already something of a hit with its Dark Knight Returns Batman figure, the One:12 Collective line from Mezco is impressive indeed with massive amounts of detailing, articulation, and some of the coolest costuming you're going to find in action figure land. And it just got even better thanks to this incredible looking SDCC exclusive that'll be up for sale at the con in July, and on Mezco's website.
Not only do you get an exclusive Batman (from DKR) and an exclusive Mutant Leader to pit him against in this set, but you also get a 10″ long diorama base to display them both on, that resembles the Gotham City junkyard where their famed fight took place in the classic book by Frank Miller.
Here's the full tale of the tape:
The Deluxe Boxed Set contains:
Battle Damaged Batman figure with an exclusive head sculpt, torn exclusive variant costume, alternate hands and exclusive "Knock-Out Foam" accessory designed to fit over his enemy's face.
Exclusive "first look" Mutant Leader with a variant dirtied up paint application to enhance the realistic battle in the junk yard, alternate hands and crowbar accessory.
A Polystone cold casted display base of the Gotham City Junk Yard over 10 inches long with felt footing.
Packed in a large closed box with a specially die-cut slip cover and utilizing the One:12 Collective's collector friendly no twist tie packing method for easy in and out of box displaying.
Each figure is built on a One:12 crafted body featuring over 30 points of articulation with specially tailored cloth costuming, intricate hand painted decoration and state of the art solid construction.
Yeah, that's some good stuff right there. If you're heading to the big show out west, you'll find this awesome 2 pack at the Mezco booth, #3445 on the show floor. You don't have to be there to pre-order this one though, as you can find it on the toy-maker's website right here… just hustle over there if you want one as this is going to go fast even with that $150.00 USD price tag.