A pair of Breaking Bad figures will highlight the toy-maker's offerings at the biggest con of the year.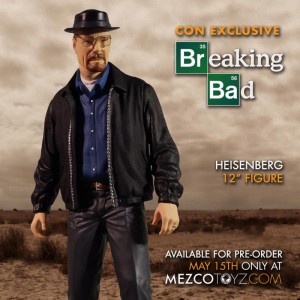 Doing a terrific job with the BB license once again is Mezco, who's got a pair of awesome exclusives set for San Diego this July. First up is and main man himself, Walter White clad in the guise of his alter-ego Heisenberg.
Standing a full foot tall (12″), Heisenberg has a removable porkpie hat, and interchangeable sunglasses and regular old specs. A variant version of the main release, this edition has a blue shirt black jacket that you won't find on any other Heisenberg anywhere. If you watched the show religiously, then this is kind of a must-have addition to your collection. He's not the only figure on the block though, as Saul Goodman will also be making an appearance.
Based off the character's appearance in Breaking Bad and not the new 'Better Call Saul' prequel show, Saul comes in at 6″ tall and is dressed in his pinstriped suit with blue ribbon affixed to his lapel. Maybe even cooler than the figure, is that he's packaged in a window box that's made to resemble his iconic office from the show; columns, mural and all.
Both figures will be at booth #3445 at the SDCC, which will be Mezco's home base for the Con, or online where you can pre-order them right now. Click here for Heisenberg, or here for old Saul.