Mezco has announced that their convention exclusive figure for 2015 will be a cool translucent blue 'ice clone' Sub-Zero.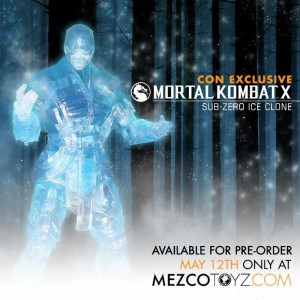 Now this is a cool one… sorry. The Ice Clone Sub-Zero is a part of Mezco's new line of Mortal Kombat X figures, all of which are pretty darn impressive. So far, we've seen two waves of the upcoming toys, and they're as game-accurate as you can get, not to mention loaded with accessories and detailing.
This exclusive variant of Sub-Zero is right in line with all the rest too. The difference being that he'll ship cast in that awesome translucent blue plastic that you see above. And carrying across the theme, all his accessories (like the ice ball) will be moulded in that same material. Actually… when you think about it, the figure itself kind of is an accessory, since he's meant to mimic Subby's ice clone move in the fighting game, where he creates a duplicate of himself made out of ice.
There's probably never been an accessory with quite this much detailing though, as Ice Clone Sub-Zero touts 23 points of articulation, stands in at 6″ tall, and has a ton of ball-joints, so you can get him into pretty much any of the fighting stances seen in the game.
Shipping out in a collector friendly blister card, these bad boys will be a hot commodity at the upcoming SDCC in July, where they'll go on sale for the first time. Expect them to be super-limited in availability. You'll be able to get one at the Mezco booth (#3445) or online right here.