As it appeared in the comics, as opposed to the movie version, this is one suite of Hulkbuster armor you're going to want on your shelf.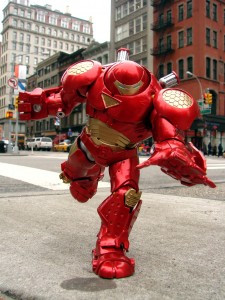 I love DST's oversized figures. They've had some of the best out of any toy-maker, with figures of Hulk, Juggernaut, Abomination and more towering over other toys. These figures have a heft that you rarely see in action figures today too, and actually look and feel both like the big monsters that they are.
The latest addition is, as you can see from the headline, the Hulkbuster Iron Man armor. This isn't the armor from the movie that just hit theaters though (Age of Ultron), it's actually based on the original that featured in the 1994 Marvel Comic that pitted Stark vs Banner join an all-out brawl for the first time, Iron Man #304.
Standing 8.5 inches tall and with 16 pots of articulation, this is a massive piece of Iron Man memorabilia and one that's capable of being set in just about any pose you can think of. That's including, as you can see, some great battle poses with DSTs Hulk figures.
The figure ships later this Summer, but you can pre-order one right now from MarvelShop.com.