Nintendo is about to dedicate an entire Nintendo Direct presentation to their upcoming multiplayer arena shooter Splatoon.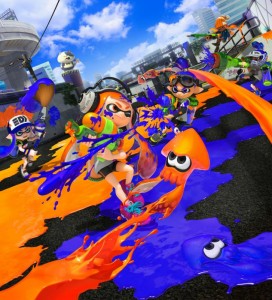 I don't really know what needs further fleshing out at this point about Splatoon that would take up an entire Nintendo Direct, but there's one on the way for this Thursday, May 7th. Usually, these digital presentations focus on a few things, like upcoming games and Amiibo, but this time around it's just going to be Splatoon on the docket.
If you haven't been following along, Splatoon is a multiplayer-focused (a rarity for Nintendo) shooter of sorts that casts players as squids that can turn into people. When in human mode, you can shoot ink all over the place and douse the battlefield in your colors. When you're a squid, you can then swim through that ink and generally get around much quicker.
It actually looks really neat, and since it's Nintendo, you already know that Splatoon is going to be light and cartoony, with a really cool and colorful look that sort of evokes Saturday morning cartoons of old. I could see this as a cartoon really… but first we'll see it as a Nintendo Direct, which you'll have to tune in for on the 7th at 7 a.m. PT or 10 a.m. ET.
Want more? You can also check out the Squid Research Lab right here.