DST releases are nothing if not diverse. This week sees the release of a new Enterprise A from Star Trek, as well as the second series of TMNT Minimates and a wicked little goblin bank.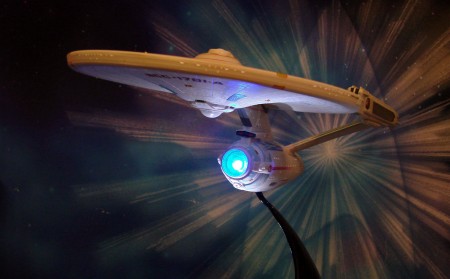 If you're a regular player of tabletop games like Pathfinder, or even D&D and Warhammer, this is going to catch your attention right away. I'm not exactly the world's authority on board gaming, but DST's new goblin bank looks like something that you might have to have if you host game night with any regularity. He'd just make such a cool little conversation piece, wouldn't he? And although he is from Pathfinder, he'd probably fit right in with any other middle-ages-themed gaming property.
Going slightly past the dark ages, is Diamond's new Enterprise A form the Star Trek motion pictures. This baby is from the classic series of films and not the JJ Abrams-verse, which automatically makes it awesome. Well, for me anyway. As it was in the Undiscovered Country film, this ship is loaded with lights and sounds taken from three different Star Trek movies. All that and it'll look quite spiffy on the shelf in your ready room.
And finally, this week sees the long-awaited arrival of the second wave of Teenage Mutant Ninja Turtles Minimates. The new series comes blind-bagged and features new renditions of the Fab Four, an awesome new Shredder in his red outfit, Splinter, Casey Jones, and more. IF you're a TMNT nut, these are some figures that you shouldn't miss out on.
That's what's in stores this week figure fans. Scroll down for more detailed looks at the new stuff and some pics, and then make your way over to your favorite comic book shop or specialty store for the goods.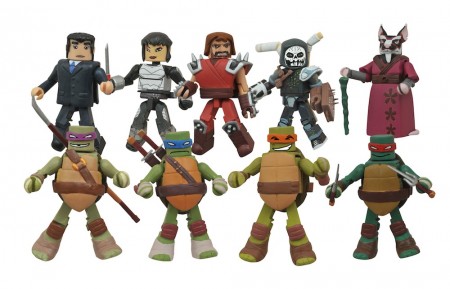 Teenage Mutant Ninja Turtles Minimates Series 2 Foil Bag Counter Display – A Diamond Select Toys Release! Ninja Turtles Minimates are back, with new Turtles, new friends and new enemies! Each countertop display contains 18 blind-bagged pouches, and each pouch contains one 2-inch Minimates mini-figure, featuring interchangeable parts and accessories. The assortment includes nine different Minimates, including new versions of Leonardo, Michelangelo, Donatello and Raphael, plus new characters Splinter, Casey Jones, Karai, Chris Bradford and a Norman! There's a full set in every case ­– Karai and Bradford are exclusively available in this assortment, and Bradford is only packed one per case! Designed by Art Asylum! (Item #FEB152156, SRP: $5.99/ea.) http://www.diamondselecttoys.com/teenage-mutant-ninja-turtles-minimates-series-2-foil-bag-counter-display
Pathfinder Goblin Vinyl Figure Bank – A Diamond Select Toys release! The Goblins of Golarion can be vicious and nasty, prone to violence and greedy beyond measure. So what better way to keep your money safe than inside one? This Goblin also carries a giant die, to show people how much you love the game Pathfinder, and to remind you to save some money for the next campaign. Packaged in a clear polybag. (Item #NOV142182, SRP: $29.99) http://www.diamondselecttoys.com/pathfinder-goblin-vinyl-figure-bank
Star Trek Undiscovered Country Enterprise A Electronic Ship – A Diamond Select Toys release! Finally, the Enterprise-A has left spacedock! After a lengthy refit, DST's 16-inch model of the U.S.S. Enterprise NCC-1701-A is back, featuring all-new lights and paint, plus dialogue taken from three different films – Star Trek IV, V and VI. It's the perfect companion to DST's Klingon Bird of Prey and U.S.S. Excelsior ships! Add the A to your own personal Starfleet this winter! Comes packaged in full-color window box with try-me feature. (Item #AUG142285, SRP: $65.00) http://www.diamondselecttoys.com/star-trek-undiscovered-country-enterprise-a-electronic-ship