Not one to shy away from shaking things up in a major way, Valiant Comics is about to welcome in the Book of Death.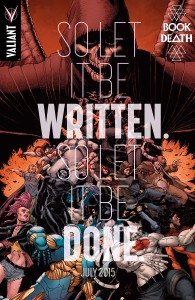 Announced at WonderCon in Anaheim, CA this past weekend, Valiant will follow up on the recent (and awesome) The Valiant mini-series with the ominously titled Book of Death. And this looks like a crossover event that's set to bring some pain down on the company's biggest heroes with Bloodshot, X-O Manowar, Ninjak, and both the good and bad Psiots of Harbinger al not looking to hot on the covers that have just been revealed.
Whether all or some of the characters listed above and shown below actually get the axe or not though, is anybody's guess at the moment, as we don't yet know much about the new happening. As a long time comic fan though, I have to warn against getting too upset about anything, these are some of the company's biggest stars, and while they're definitely less shy about major changes than some other publishers, I doubt they'd take out everybody that you see here. One or two though… well, you never know.
Watch for lots more on Book of Death as it's revealed.