Let's hope there are more on the way, because DST's first Valiant Comics offering is pretty freaking awesome-looking.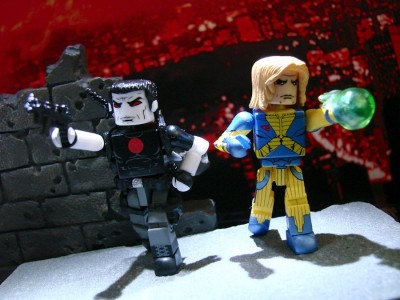 X-O Manowar and Bloodshot are two of the greatest heroes in Valiant's superhero universe, and now collectors finally have some collectibles featuring both heroes with a set of Minimates. Well, kind of like two sets actually.
"Valiant's fans around the world have continuously requested figurines of their favorite characters," said Russell A. Brown, President of Consumer Products, Promotions, and Ad Sales for Valiant Entertainment. "We are thrilled to bring two of our classic heroes to Toys"R"Us for the first time with Valiant Minimates, giving fans old and new an opportunity to get to know our exciting line of characters with value added offerings. And, we are delighted to join the ranks of the top intellectual property characters to be represented in Minimates form."

"The Valiant Universe is one of the premier comic book universes, with a history of creative storytelling, detailed  character design and fantastic artwork," said Chuck Terceira, President of Diamond Select Toys. "The fact that it has not had more merchandise has always been a mystery to me, and when the opportunity arose for DST to create some of Valiant's first collectible toys, we were all excited to be on board."
In stores now is the Toys R Us set, which features Bloodshot (with a pair of looks) and X-O Manowar (with helmeted and helm-off heads). Both figures feature appropriate accessories, stand in at about 2″ tall, and have 14 points of articulation.
There's also a comic book shop-exclusive set, which is carried by Previews. This variant pair has the same duo, but in battle damaged form from the Harbinger Wars (Bloodshot) and Planet Death (X-O) crossovers. That set will be in comic book shops next month.