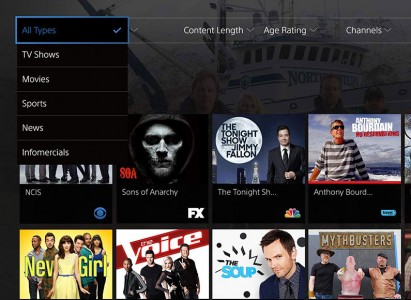 PlayStation Vue begins trial periods in New York, Chicago, and Philadelphia. For those that missed Brutal Gamer's first post about the announcement, Sony is breaking into streaming in a big way. Combining live and on-demand programming on a cloud based DVR stream, Vue on PS4 and PS3 will make it easy to say goodbye to cable.
Sony wanted to keep the gamer in mind with the Vue setup. All your favorite shows and movies will be front and center, but if you want to explore new things, there are great discovery tools to lead you to new content.
Don't worry about recording too many shows at once as there are no programming conflicts, and the recorded episodes will be saved for 28 days.
Limited to New York, Chicago, and Philadelphia for now, Sony is eager to bring Vue to all PS4 and PS3 owners. They are also planning on bringing PlayStation Vue to the iPad.
They really need a positive run for the Vue, following the disaster of PlayStation TV. Granted, the PS TV wasn't a streaming service, but instead a remote console to be used for remote play and streaming services like Hulu; however, it was poorly received. Understanding the direction of entertainment consumption, Sony made a wise decision to focus on creating their own streaming app. Let's hope this trial period goes well so we can start streaming all our favorite shows on our favorite console!
What do you think of Vue? Let us know in the comments below! Or tweet at me! @lmrome3