There's a lot to like from a whole bunch of publishers on the stands today, including the new Hellboy spinoff Frankenstein Underground, Batgirl: Endgame, and Transformers: Combiner Wars Opening Salvo.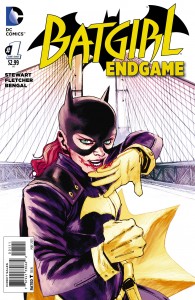 Starting with Frank, Frankenstein Underground is the newest book from Mike Mignola. A spinoff of Hellboy and the B.P.R.D. series, Frankenstein reinvents the total monster for the modern age, complete with that inimitable Mignola style that's made the other books in his corner of Dark Horse Comics so terrific. I won't go too deep into it here, but if you'd like to know more before you decide on buying in or not, read our complete review here.
Next up we have the somewhat controversial Batgirl: Endgame. This book's not really controversial for what's inside it though, or what's contained in the story (which ties into the Joker re-defining Batman: Endgame), but the cover. Not the cover you see to the right either, but the one that was planed to be the special 'Joker' themed variant. The alt cover was to show Batgirl held at gunpoint by Joker, with a smile painted on and tears running down her face. It was disturbing to put it mildly, but that was kind of the point.
If you follow comics at all, then you probably know that Joker once shot Barbara Gordon (Batgirl) through the spine, confining her to a wheelchair for a long while. It all took place in the Killing Joke OGN, and some truly horrible things were alluded too in that particular story as well, though not directly shown. Basically, Joker is an abomination of a man… if you can even call him that. To make a long story short, the cover was pulled after the artist, Rafael Albuquerque, actually received threats and asked DC to withhold his work. It's silly, and comes across as ever-so-slightly immature that someone can't handle the cover to a comic book like this one, as there's about a million times 'worse' on the stands every week, but that's people for you. And for the record, I don't agree with the self-censorship that DC displayed… though I do understand why they did it.
In the end too, none of this has anything to do with the story in the issue itself, which is as intact as ever (and presumably fairly unrelated to the variant cover illustration). But it's worth a note that this is the issue that caused an uproar. Oh, also, Endgame is an incredible bat-event and the current run of Batgirl is excellent and more than worth your time. So there's that too.
Next up is kind of a niche pick and I realize that. The Transformers comics from IDW are pretty great though, especially if you're a fan, as they're loaded with mature stories that really flesh out and expand the Transformers mythos- and these are the Transformers that older audiences know and love, Generation 1 baby.
With a new mega-arc about to kick off with Combiner Wars, the Transformers books (there are 2) are sliding into it with a prequel story titled 'Opening Salvo'. This intro to what's to come will serve to set up the possible peace-shattering events that could lead into another all out war between the Autobots and Decepticons; this one made all that much more explosive with the proliferation of the bots that can join together into the towering Combiners. If you're a fan at all, this is one not to miss.
There's actually lots more this week though that should get some attention from you. As usual, I've got my pull list printed right here for you, and you can also head on over to Previews page for the week's new releases to see everything that's on the stands right now.
Marvel Comics
Cyclops #11 – The end of the Pirate's Life for Me arc sees things come crashing down for Scott. What else is new?
Hulk #13 – Deadpool guests as a hired gun. Tomfoolery ensues.
The Punisher #16 – Frank's in the seat of power for the nation, looking for those pulling the strings on the hit out for him.
Moon Knight #13 – A brand new arc kicks off here with a new creative team too. Great jumping on point!
Star Wars: Princess Leia #2 – The first Star Wars limited series from Marvel rolls on.
DC Comics
Batgirl: Endgame #1 – see above
Batgirl #40 – Barbara's past comes back to haunt her, and the evil Batgirl is still at large.
Batman Eternal #50 – This is it, the end of the massive arc started all the way back in issue #1.
Superman #39 – The Man of Steel, an ordinary joe?
Dark Horse Comics
Frankenstein Underground #1 – see above
BPRD Hell on Earth #129 – Howard's link to the ancient past, and the power he wields, is tested against a demonic beast.
IDW Publishing
G.I. Joe: A Real American Hero #211 – Serpentor is back and in command of an unstoppable weapon.
Orphan Black #2 – Following up on the best selling book of February, OB#2 continues the murderous tale of Helena.
Star Trek/Planet of the Apes #4 – Kirk and Taylor against the Klingons and Commander Kor!
Transformers #39 – see above
X-Files Season 10 #21 – A brand new arc, Elders kicks off here and sees the possible return of the Syndicate.
Valiant Comics
Divinity #2 – The man-made-god has finally been exposed in the Australian Outback. So now what?
Ivar, Timewalker #3 – Ivar faces… himself?