If you like The Walking Dead building sets from McFarlane Toys, you're going to be plenty happy with what was on display at Toy Fair.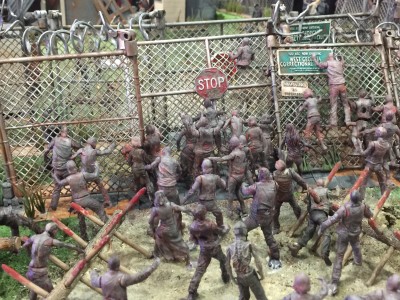 Actually, let me amend that, if you like building sets at all, you're going to like what was on display in the McFarlane booth. I'm not even a fan of the show (or the comics) and even I have to admit that the company's Walking Dead sets are some of the coolest building blocks out there right now, and it's pretty much all because of the immense amount of detail that goes into them.
If you have yet to construct one, it's kind of hard to describe them really. They look like plastic, molded playsets when you first see them, but each and every part is a brick, just like the product produced by all the other big name companies out there. The key to these particular sets though, is that there's a finishing 'layer' of blocks that you add to them that smooths them out and makes them look more… done than other companies offerings.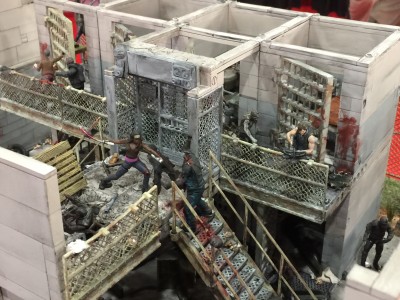 As a non-fan, I have a few of the kits and had a blast building them. If that sounds like something that you might be into as well, or you love the AMC TV show of the same name, then you're going to love what McFarlane has in store for 2015. Aside from what's already out there (or will be shortly) there's the RV set, the Assault Vehicle, and those amazing cell blocks.
Seriously, the cell blocks are stunners. You can build them up and grab a few sets to assemble a full-on prison-zombie assault if you want. And yes, I do want.
Things weren't all Walking Dead at the McFarlane booth though, as the company had some very neat looking new Halo figures on display (accentuating the new Spartan you'll be playing part of Halo 5 as, Locke) and some awesome Assassin's Creed figures from throughout the series' history.
Check 'em all out in the gallery below. Just a reiteration too- everything (except for the 6″ figures in the display cases) that you see from The Walking Dead in the gallery is built from plastic bricks. It's all building block sets, no matter how amazing it looks and how much detail it's sporting. ALL OF IT. Oh, and apologies for the weird red-hue to some of the shots, I could seem to get this banner reflection out of my shot on a few of them.