Just like last year, there's plenty to like from Funko this Toy Fair.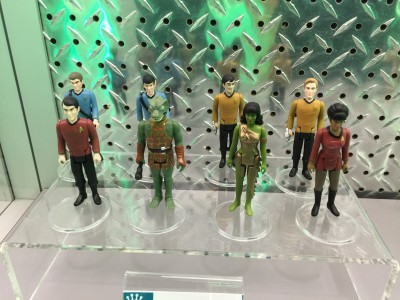 One of the biggest surprises from Toy Fair 2014 was the ReAction figure line from Funko. The action figures in the series are not highly detailed or super-posable, but they have a fantastic nostalgic charm (they're made to look like action figures did in the '80s), and are tons of fun in general.
The 2015 line adds some new IPs as well, which should bring Funko's total stable of properties up to what… a million? Well, maybe not that high, but they have a ton of licenses is what I'm saying here. And the new stuff is pretty big time too, with stuff like The Boondock Saints, Breaking Bad, The Karate Kid, 5th Element, and and even the original Star Trek series making appearances.
If 'lo-def' action figures aren't your thing though (apparently you hate fun), there's still some things you might be into from Funko including their awesome new Rocketeer figure and incredibly cool Evolve series. The Rocketeer stands alone as a single release figure, while Evolve collects all the hunters from the new game of the same name. They're super cool and well worth checking out… which you can do in the gallery below.