Dark Horse put in an impressive showing at this Toy Fair, with a heavy emphasis on everybody's favorite gritty and gruesome medieval fantasy TV show- Game of Thrones.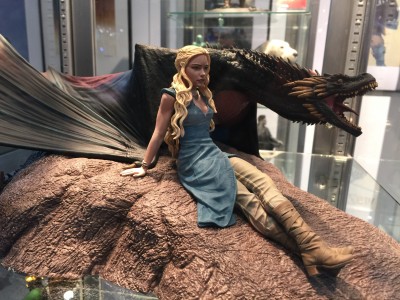 Game of Thrones is bit time. No, no- I mean big time, and Dark Horse Comics' booth at Toy Fair definitely reflects that. The lion's share of what's being shown off on the show floor this week is GoT related, with statues, figures, and assorted collectibles pretty much wall to wall. Fans should be in for a treat too, since this stuff is high-quality across the boards. Of particular note; that awesome Daenerys you see above and a fantastic Brienne of Tarth piece that's both impressive in size and sculpt.
Now, it isn't all GoT though. There are some awesome statues from other Dark Horse properties like Criminal Macabre and The Goon waiting to be added to your collection. The Legend of Zelda also has a pretty good footprint in the both with a trio of statues that Dark Horse will be distributing in the US, which includes a pair of really neat interpretations of series hero Link. And finally, I have to make a special note of the incredible set of Halo spacecraft that should be hitting this year as well.
Right now, there are three pieces in the collection, with a Covenant capital ship, the UNSC Infinity, and a Pelican dropship making up the entirety of the set. I imagine there could be a lot more to come in this series if these do well at retail though, and I can't see that they won't as they're freaking awesome with some fantastic detail and paint apps. Basically, if you know the company's Mass Effect starships, then you know what to expect here.
Have a look through the gallery below for the full look through Dark Horse's booth. with all of the above and just a lil' bit more.