Melding real actors with cartoon characters, Toonstruck was similar to classic film Who Framed Roger Rabbit, but with one major difference- Christopher Lloyd is playable in the game.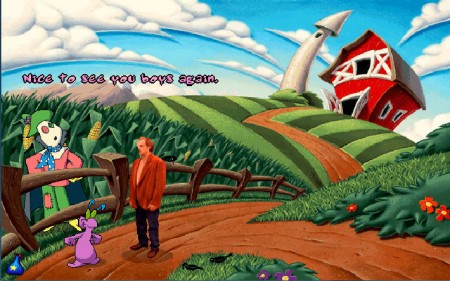 I have to admit that I never played Toonstruck when it was released on the PC back in '96. I was a huge fan of point and click games too, but for some reason I never picked up this particular adventure. I was also a huge fan of Chris Lloyd (mainly due to his turn in Back to the Future and the aforementioned Who Framed Roger Rabbit), which makes that fact even weirder I guess.
Anyway, the game boasts more talent than just Mr'Lloyd, and more than most games do even nowadays. Lending their vocals to the title are The Simpsons' Dan Castellaneta, the late Dom DeLuise, and  Tim Curry, who I think pretty much everyone should know from one film or another… but probably the Rocky Horror Picture Show. Nice cast huh?
Toonstruck is available right now on GOG, and will cost you $9.99 USD. If you skipped it the first time around, now's as good a time as any to see what you missed out on.