The original Spawn returns this week with an issue number (250) that comics just don't see these days, Superman gets new everything in an issue that brings the first arc of Romita's run to a close, Valiant's villain-led Imperium arrives, and Marvel's Star Wars rolls on.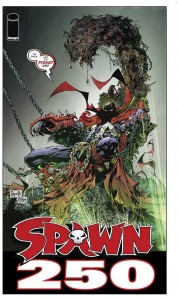 There aren't a ton of can't miss comics on the racks this week, but the ones that are seeing release are really not to be skipped over. For starters, how many comics these days can boast a #250? Not too many, and the way that the industry is headed, tons of relaunches and plentiful miniseries, it doesn't look like that's be the norm for quite some time. Image's Spawn though, that's a book that's only too happy to keep on chuggin'.
With this week's Spawn #250, you're getting not only a milestone book in the sense that it sports a high number on the cover, but also one that ushers in some pretty cool stuff for the story of the world's best-loved hellspawn. For starters, this issue caps off the battle between the current Spawn (Jim Downing) and his living costume. Secondly, it's a triple-sized issue, so there's plenty of content to keep you busy. And finally, this is site long-awaited return of Al Simmons, the original (and some would say best) Spawn. Yes, this is a big one in more than just page-count and numbering. If you're a fan, don't miss it.
Superman also has a pretty big issue hitting this week with DC's Superman #38. This over-sized comic is the final issue of the first arc featuring artist John Romita Jr., writer Geoff Johns, and Klaus Janson, and it's a turning pout for the Man of Steel in the New 52 universe. Not only does he face off against Ulysses, but he also gets a new costume and, for the first time in ages, a new ability.
Big things are also happening over in Valiant's Universe, with a bad guy team getting their own book with Imperium #1. Villains are all the rage these days it seems, and Valiant has some of the most interesting out there in comics-land. Imperium features the main heavy of the Valiant U, Toyo Harada, who has assembled a team of the biggest baddies out there for one reason- to stop the world into submission and bring on his own twisted version of utopia.
Also not to be forgotten this week, is the second issue of Star Wars from Marvel Comics. The opening comic was a little divisive, with some fans being put off, but that might change as issue #2 features Luke Skywalker dead in the sights of none other than Darth Vader himself. Classic Star Wars stuff right here, with all the big characters form the first trilogy and lots of Imperial vs Rebel action.
Those are my main picks for this week, and what will be first off the buy pile for me this Wednesday. The rest of what I'd recommend picking up is below, and the full list of what's due to hit racks can be found right here on Previews' main listing page. Happy reading!
Marvel Comics
DC Comics
Superman #38 – see above
Injustice: Gods Among Us Year Three #8 – Constantine and Batman have a storm named Superman on their heels as Wonder Woman has had more than enough of Sinestro and his yellow Corps.
Dark Horse Comics
Hellboy and the BPRD 1952 #3 – Red has to deal with not only the horrors he and his team turn up in Brazil, but also a traitor from within.
Conan Vol.16 The Song of Belit – The latest TPB collection of Dark Horse's Conan tales caps off the Queen of the Black Coast arc.
IDW Publishing
G.I. Joe #5 – The Joe team has to take a brand-new strategy on Cobra as the world in general views the evil organization as heroes.
Transformers: More than Meets the Eye #37 – Days of Deception continues as a group of Autobots take matters into their own hands. It doesn't go well.
Valiant Comics
Image Comics