Straight from the floor at CES and into stores, MadCatz' newest headset, is on the way- and this one's packing. Not only is the the F.R.E.Q.9 compatible with just about anything, but it's also wireless and gives a true surround sound experience.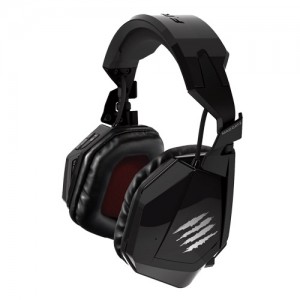 Don't freak, but the F.R.E.Q.9 might be one of the coolest headsets out there right now. The latest release in the the F.R.E.Q. series from the company, the F.R.E.Q.9 sports quiet a few features that should make it a hit with gamers and those who like their tunes wireless. If you like surround sound out of your headphones, then you should love these as they pack technology that's actually "based upon the same virtual surround technology used in mission critical missile warning systems by an F-16 Falcon™ jet fighter". So what's that mean? Well, the onboard AM3D Audio system basically can convert any signal into "military-grade 3D sound". Excited yet?
"Mad Catz makes products which appeal to the passionate gamer, but today even those who play games as a primary hobby, use headsets throughout their day.  Traditionally we accept the notion of using different headsets for each task.  A dedicated headset and boom mic for gaming, earbuds for sport, and noise-cancelling headphones for travel.  We think there's a better way to introduce quality and value to a gaming audience and Mad Catz is excited to introduce the F.R.E.Q. 9 which we believe will cover all the users' needs, and do so with remarkable audio fidelity," said Darren Richardson, President and Chief Executive Officer of Mad Catz. "We think a gaming-inspired, premium headset which can function with practically any format is a welcome addition to the F.R.E.Q. range, and one which we think will add positive growth in 2015."
In addition to this, the F.R.E.Q.9 also has an integrated mic that's of the low-profile variety (no boom), Active Noise Cancellation (so they'll block out pretty much everything that's not in the game, or whatever else you're listening to), and a dedicated App on iOS and Android so you can fiddle with the settings if you're using the headset on your mobile. Even cooler- there's also an adapter box that's included that will allow you to connect to almost any source- be it optical or analog.
This one has all the bases covered, and is available now on the MadCatz shop (and, presumably, other retailers as well) for $299.99 USD.