A brand new version of Jax is heading to retail in 2015.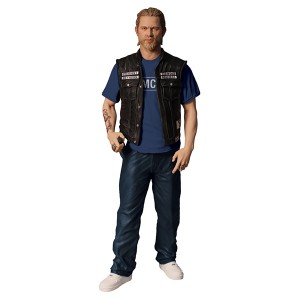 One of the most popular characters on the recently concluded Sons of Anarchy TV series, Jax Teller was played to a tee by actor Charlie Hunnam, to both critical and fan acclaim. And every bit of the character that you saw on screen was captured in plastic with this new figure from Mezco Toyz.
Sporting six points of articulation and a knife that fits in his hand and in the sheath on his belt, Jax is a biker to be reckoned with. The likeness on the new figure was sculpted by Mezco's in-house team and the company promises that fans won't be disappointed as the figure will feature "a real-life facial expression, detailed wrinkles, and skin texture."
And if you're a collector who likes to display his toys in and out of the box on occasion, then you'll be happy to learn that Jax here comes in a collector-friendly blister card. So you can pop him out and then back in when he's through dealing with club business.
Look for him in stores this coming Summer.