A team of villains stars in Valiant Comics' newest title, and they might rival Unity for the most powerful group in the Valiant U.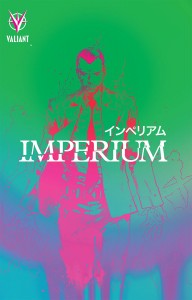 It's going to be a good year to be a bad guy in Valiant Comics as Imperium launches villainy into the fore. Mainly shrouded behind illusion, Toyo Harada (from Valiant's Harbinger series) has been shown to a straight-up super villain on the global stage. His empire in ruins, the character who's basically the big bad of the Valiant U has no intention of giving up the ghost and fading away into that good night.
Toyo Harada is the most dangerous human being on the planet. Imbued with incredible powers of the mind, he has spent his life guiding humanity from the shadows. But today he is a wanted man. His powers are public knowledge, his allies have turned to enemies, and he is hunted by every government on the planet. Instead of surrendering, Harada has one last unthinkable gambit to play: to achieve more, faster, and with less, he will build a coalition of the powerful, the unscrupulous and the insane. No longer content to demand a better future, he will recruit a violent legion from the darkest corners of the Earth to fight for it. The battle for utopia begins now.

"This is a real chance for us to play around with some super-villain tropes the same way we played with super-hero tropes in Harbinger," said writer Joshua Dysart. "This time the tropes we're playing with are an 'evil alien,' a 'robot soldier,' a 'mad scientist,' a 'political extremist' (the most terrifying of all monsters), and, of course, a 'global dictator' bent on taking over the world. So all of that breeds new fun characters to throw into the Valiant Universe."
If you're a Valiant fan, there's no way you're not excited for that. Toyo is more or less, the Dr.Doom and Lex Luthor of the Valiant line and to see him featured in his own boo (with a bunch of the other main heavies in Valiant Comics) is just too cool. It's also very telling of the direction that the Valiant line is headed in 2015, as a bunch of their books just wrapped their runs, and now we're getting a more bad guy-focused headlining comic. Should be an interesting year.
Imperium will be doing a full retail press too, with no less than seven covers hitting the racks, three of which will feature a very cool look at a different group member with an issue each for "commander Toyo Harada, the alien powerhouse Lord Vine-99, and the manipulative artificial intelligence Mech Major". From Joshua Dysart and Doug Braithwaite (with alt covers by Raul Allen, Trevor Hairsine and Tom Muller, and a pair by Braithwaite), Imperium hits stores and digital download storefronts on February 4th.