Your local comics shop is going to be on a fairly normal pace for new releases this Holiday week, and there are a few books coming out that deserve your full attention- even if it is Christmastime.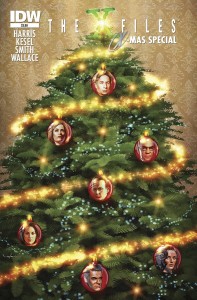 Dark Horse has a great slate of comics headed to stands this week, chiefly among them being Aliens: Fire and Stone #4 and Halo: Escalation #13. Aliens carries on the company's triple crossover event Fire and Stone, and closes out the xenomorphic portion of things, so don't miss it. Halo on the other hand, actually represents a jumping on point for readers, as Sarah Palmer's Spartan team takes on the rebirthed (albeit diminished) Covenant.
It's actually a pretty big week for DC this Holiday week as well, with new books and a bunch of crossover editions hitting. Debuting this week, and not to be missed for MOTU fans, is He-Man: The Eternity War #1 from DC. This new series picks up where Masters of the Universe left off and heads into a full on war between the teamed up Masters and Snake Men (yep, they're allies) and the Horde, which is still holed up on Eternia. Oh, and there's a reborn Hordak too, that's going to be trouble.
Continuing on this week is the GodHead crossover in a bunch of titles, including the Green Lantern Annual #3, Infinity Man and the Forever People #6, Red Lanterns #37, and Sinestro #8. So if you've been following along with this one, don't miss those books. Robin Rises Alpha #1 hits shelves this week too, and is a can't miss for fans. This new book has Batman returning from Darkseid's Apokalypse with the body of his son in tow. Even though he's found Damien though, bringing him back to the land of the living is a whole 'nother prospect.
IDW has a few worthy reads on shelves as well, with TMNT/Ghostbusters #3 out and about, and the first graphic novel collection of its popular GI Joe vs Transformers ongoing available as well. And if you're in the mood for a little Holiday cheer, don't forget about The X-Files X-Mas Special. This one-shot delivers a Christmas party featuring the whole X-cast as well as a backup story featuring the X-Files agents from the 1940's as they uncover a holiday-gremlin that you definitely don't want anywhere near your chimney.
As I said above, Axis finally wraps up this week also, and has a bevy of crossover issues lined up with the final issue of that mini-series. So aside from Avengers & X-Men: Axis #9, you'll also be able to pick up Deadpool #39, Captain America and the Mighty Avengers #3, Loki: Agent of Asgard #9, Nova #25, and Superior Iron Man #3. And if that doesn't do it for you, maybe a trip back in time will- as Marvel also has the origin of the sort-of Axis baddie Onslaught available in graphic novel form. Straight from the 90's, it's X-Men vol. 3: Road to Onslaught.
Those are my main picks for this week, but if you want even more, have a peek at the full list of what I think are some can't miss reads, and then click here for the complete Previews listing of what's on tap for Christmas Eve release.
Marvel Comics
Axis crossovers and Axis #9 – see above
Daredevil #11 – Payoffs set up in the very first issue almost a year ago are finally coming due.
DC Comics
Aquaman #37 – Arthur takes on Gorilla Grodd!
Batman Annual #3 – An Endgame tie-in, of you're following that, then you don't want to miss this.
Deathstroke #3 – Artist Tony Daniels continues to be lights out in this new series.
He-Man: The Eternity War #1 – see above
Robin Rises Alpha #1 – see above
Superman #37 – Do not miss out on this penultimate chapter of the Men of Tomorrow storyline. Big changes on the way for the Man of Steel.
GodHead crossovers – see above
Dark Horse Comics
Aliens: Fire and Stone #4 – see above
Captain Midnight #18 – The biggest hero in Dark Horse's new superhero universe gets down in the jungle and tries to keep a leash on Helios.
Halo: Escalation #13 – see above