What's Gearsmas? Well, basically, it means you can score some nice discounts on awesome stuff from your favorite high-end gaming collectible-maker, Project TriForce.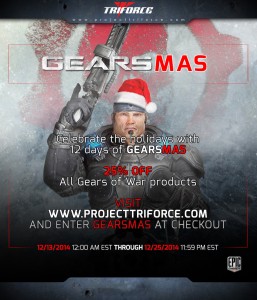 There's little argument that Project TriForce makes some of the coolest stuff around for game-fans. Starting with their amazing Gears of War Lancer replica years ago, the company has become a favorite offering some of the flat-out coolest pieces of collectible game replicas and statues that you're going to find.
Since the company started with Gears really, it's kind of fitting that this year's Holiday promotion is focused squarely on the famed Microsoft and Epic Games series. The 12 days of Gearsmas kicked off this past weekend on the company's online storefront and is scheduled to run through Christmas Day (12/25) at 11:59pm eastern time.
As to what you can expect to see for sale, well, much everything (that's still in stock) pertaining to Gears of War is 25% off the usual ticketed price. That's a pretty awesome deal considering TriFore really doesn't hold sales too often and most all of their stuff sells out as fast as can be.
Hit the image above to head into the sale, and see everything else that the company has on offer- including that awesome new Halo Plasma Rifle, which is decidedly not on sale by the way.