Looking for a high-powered dart cannon for a little in-home blasting action? Prime Time International has you covered with this really cool blaster.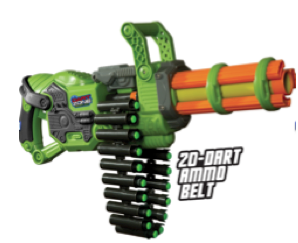 I haven't had a really in-depth history with dart-shooting guns as of the last few years. Sure They're still really popular with just about everybody, from kids to adults, but the whole thing kind of went out with the mid-90s for me as that's when I last remember running around with one and shooting at my friends in the backyard.
That doesn't mean that I don't still think they're cool as heck though, and still harbor more than a little bit of a hankering to pick up the newest dart gun when I'm at my local toy store or big box. Believe me, if I could turn back the clock and wield a gatling gun-style, suction-cup shooter like back in the day, I most definitely would. And actually, maybe I can.
While I'm not exactly running around in the park with this bad boy, Prime Time International's Dart Zone: Covert Ops Scorpion Gatling Blaster (there's a mouthful) is pretty awesome and sort of did make me feel like a kid again… in a hardcore, militarized way of course.
The gun comes cast in a green and grey scheme, and that's the first thing that I noticed about it. This isn't some orange/red/yellow/other goofball color painted piece of hardware, this one's actually got a cool army look to it, that reminded me of the classic mini-gun hoisted by Jesse 'The Body' Ventura in the classic Predator movie. To be fair, there is actually an orange barrel, but that's kind of a necessity thanks to laws about selling toy guns. At least the while thing isn't orange is kind of my point here.
There's also a 20 shot ammo chain that hangs from the gun and feeds the gatling blaster with darts. The chain is grey plastic and each dart is tipped with green, and is a slightly rounded head, not a suction cup. That's kind of nice since it means the darts won't stick to mirrors and bass in your house, which is always something that annoyed me. That said, I would have definitely have liked a longer magazine of 'bullets' though.
Considering that the gun can shoot at a pretty high rate, you'll burn through that 20 shot capacity pretty darn fast. Actually, you can empty the belt in about 20 seconds, which is awesome but almost too fast since then you'll have to go collect your bullets and reload. And that's kind of a chore since these darts fly up to 70 feet.
Yes, 70 feet. Adding to the impressive feature set, the Scorpion has an excellent range and really pumps out shots over an incredibly long distance. I don't think I've ever used something like this that's shot further and it's particularly neat to set up some targets and blast them from such a long range. I did have a little issue with being overly accurate at that distance, but just the fact that I could do it was awesome.
Final Thoughts
With a price tag of just $19.97 USD and a set of plusses that includes the ability to shoot darts 70 feet and empty 20 shots in 20 seconds, the Scorpion is just plain neat and fun to play with.
If you have kids, or kids on your Holiday list, who are aged 8 and up this one's a no-brainer. It's got some great bang for your buck and kids should get tons of play time out of it (if they're anything like I was). And if you're one of the legion of adults who still gets a kick out of an awesome dart-shooter and maybe likes to blast co-workers in cube warfare, well, then it's kind of a no-brainer in that case too.
The Scorpion Gatling Blaster is sold exclusively at Wal-Mart and on Wal-Mart.com and is available right now. Oh, and don't forget the batteries, as it takes six AA batteries to spin this powerhouse up.