One of the best games in the Red Faction series, Guerrilla is finally available on Steam for the PC (and with a bunch of updates).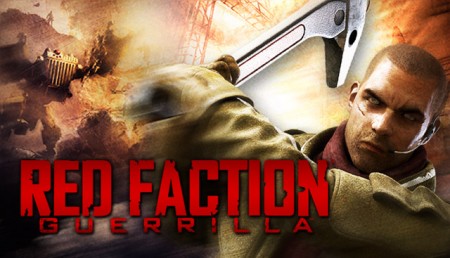 Well, it might not be a whole new Red Faction experience, but this new edition of Red Faction Guerrilla is certainly improved over the standard edition of the game that arrived on consoles and Microsoft's no defunct Games for Windows Live in 2009.
Now resting under the banner of publisher Nordic Games, who picked up the IP from THQ in their fire sale a while back, Red Faction Guerrilla Steam Edition does a fair bit more for fans than just eschewing the GFWL branding and sign-in. In fact, there are a while bunch of improvements, mostly taking advantage of Valve's Steam network and service.
Here's what's better this time around:
Added Steam Trading Cards
DirectX 11 Render Backend instead of DirectX 10 (DirectX 9 still available as a fall-back option)
Added Wrecking Crew maps: RUINS, REPERCUSSION, IMPERIAL, EXPANSION, FROST, ABANDONED
Added Behemoth Mode (= Wrecking Crew Mode with Mechs)
Matchmaking and Multiplayer via Steamworks
Added Host Migration functionality
Added Join in Progress functionality to join matches that have already started
No Games for Windows Live sign-in required
Leaderboards via Steam
Voice Chat via Steam
Achievements via Steam
At first launch the game attempts to migrate savegames from GFWL to the new system
Added Russian, Polish and Czech Localization
Added Achievements to DLC content
Fixed camera speed in vehicles
Steam offline mode enabled
Removed XP limitation for all multiplayer game modes.
Added voice chat "push to talk" option. It's enabled by default and it can be changed in the audio options. It's binded to key "Z" by default.
Added "Join chat" in matchmaking lobby. When using this option you will be joining RFG chat root
Changed minimum player number for Siege and Large Mixer to 6
Fixed mouse acceleration when driving walkers
Added ability to view Steam Gamer profile in leaderboards and in-game scoreboard
The time limit between lobby disconnects is doubled
Minimum players required to start the team game is four and for normal game it's three.
Removed Aim Assist in Multiplayer
Various Stability improvements
Not too shabby right there. Developed by Volition (who you no doubt know from the Saints Row games), Red Faction Guerrilla is now available on Steam for the PC and will cost you $19.99 USD.