An almost complete cast has finally been revealed for Warner Bros adaptation of the DC comic book, Suicide Squad, with some big names attached.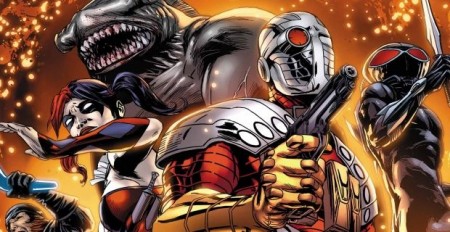 Suicide Squad has been around for a long time in the DCU. The 'team' is actually an assemblage of some of DC's villains, stuck together as a kind of commando unit by the US government… a commando unit that no-one really cares about if they don't make it back from their missions. In different incarnations of the team, they've even been chipped with devices that'd kill them if they went rogue or are captured while carrying out those missions, hence the name. These guys and gals really don't have much of a choice in completing their task at hand, whatever that might be.
The current roster of the team is actually fairly well represented in the casting for the feature film version, which is set to be a part of the DC Cinematic Universe that Warner Bros Pictures is forging at the moment with the inclusion of Deadshot, Boomerang, and Harley Quinn. Will Smith has officially been cast as Deadshot/Floyd Lawton and will presumably headline the film, which also stars Tom Hardy as (who appeared as Bane in The Dark Knight Rises) as Rick Flagg, Margot Robbie as Harley Quinn, Jai Courtney as Flash villain Boomerang, Cara Delevingne as Enchantress, and Jared Leto as Joker.
It's unclear just how big a part of the film Leto's Joker will be since I don't think he's ever been a part of the team in the comics version, and his insanity would certainly prove a hinderance to any structured mission the team could be sent on. Even though Harley is of dubious mental state as well, at least she's not as off the wall homicidal as Joker. So what happens there should prove interesting at the very least. Leto is a solid actor too, so he stands a decent chance of portraying the character with some validity after the defining turn by Heath Ledger basically made the character on film, in Christopher Nolan's The Dark Knight.
And even though I'm not the biggest fan of Smith, I like this casting as well. Him appearing as Lawton seems spot on, even with the race change (Deadshot is white in the comics) and his personality should fit pretty well. Also, as great a TV show as Arrow is, and it is tons of fun, Deadshot's appearances there have always been somewhat irritating to me since he looked nothing like the comic version. I suppose the chances of Smith wearing a full mask with the character's signature targeting apparatus will be slim in the movie, but here's to hoping.
As for the rest of the cast, they're all pretty solid choices. I like the inclusion of Boomerang and Rick Flagg a lot, since it gets deeper into the source material, and seeing Harley in a live-action role at long last should be awesome. Cross your fingers comic flick fans, this could be a good one. Suicide Squad opens in theaters on August 5th, 2016.