The crew of the N7 is back, in Minimate form and exclusively at your local GameStop.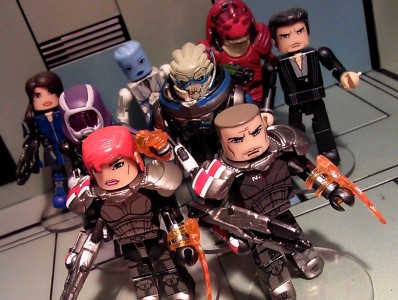 "The opportunity to work on a world as big as the world of Mass Effect is very exciting," said Chuck Terceira, President of Diamond Select Toys. "Interpreting such a wide variety of human characters, alien races, armors and technology for the Minimates format inspires our designers and allows them to push the line into new and different areas. Factor in that many of us are big gamers, and we're like kids in a candy store."
A pretty darn robust assortment of characters form the game series, the Mass Effect Minimates have all the bases covered. Included in the blind-boxed, single figure packs will be both a male and female version of Commander Shepard, Liara, Tali, Garrus, Wrex, Ashley, and The Illusive Man.
Each figure in the set includes a display base, as well as appropriate weapons and omni-tools. Oh, and the Illusive Man? He'll be pretty elusive here too, as he'll be the toughest to find of the set. All of them will be blind-bagged though, so you won't know who you're getting tip you bust open the packaging, and as usual with Minimates, each one will feature 12-14 points of articulation and fully interchangeable parts.
Look for them some time soon at GameStop stores and online.